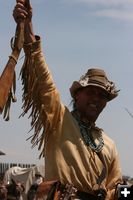 Joe Meek

Joe Meek, played by Dave Vlcek, was a Rocky Mountain fur trapper with William Sublette.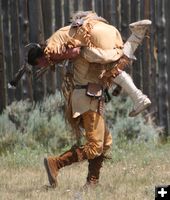 Stealing her away

A mountain man steals an Indian maiden away over his shoulder during the Rendezvous Pageant.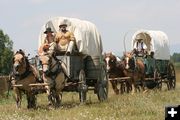 Supply Wagons

Wagons roll into the Rendezvous ready to trade supplies for precious beaver pelts.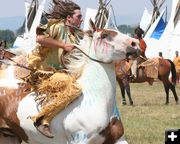 Pony Dancer

Pony Dancer, Jesse Early, races his horse with no saddle and only a traditional Indian rein for control.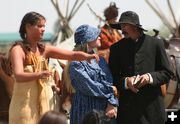 Indian Signing

Mariah McKay plays a Shoshone Indian interpreter who signs a prayer by the Protestant Missionaries during Rendezvous.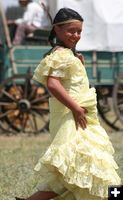 Indian Maiden

The Native Americans enjoyed Rendezvous as much as the trappers did, and they also traded furs for supplies and white man's goods. They eagerly sought new tools, cooking utensils, firearms, colorful beads and bright fabrics.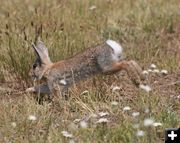 Cast Crasher

This little bunny entertained the crowd before and during the Pageant by running across the grassy field where the pageant was reenacted. At one point before the program began, it ran into one of the teepees, drawing a laugh from the crowd.



Scroll down for more photos


Rendezvous Pageant
by Pinedale Online!
July 15, 2007

The 71st Annual Green River Rendezvous Pageant was held on Sunday, July 15th in Pinedale. The event has been held each year since 1936. The event is an elaborate community event with a cast of over 150 people acting out the roles of famous explorers, mountain men, Native Americans, the area's first tourists and early religious missionaries headed West. Many of the cast members have held their same parts for many years and carry the tradition of being in the pageant on to their children and family members. The programs includes wagons led by teams of horses and mules and many horseback riders. The elaborate, hour-long, 5-scene program is packed with plenty of excitement and action and always draws a huge crowd to watch.

The Rendezvous Pageant is now put on by the Green River Rendezvous Pageant Association, Inc., a group of community members dedicated to continuing the production and the tremendous local community involvement effort. It is the aim of the Pageant Association "to perpetuate this important period of American history so vital to the development of the West by reenacting annually in pageant form some historical incidents from that distant day."

"The Rendezvous assemblage numbered in the thousands. Six of these great gatherings were held in Sublette County. They occurred in the years: 1832, 1835, 1836, 1837, 1839 and 1840. No official representative of any government is known to have taken part in these earliest explorations. It was the fur industry, the trapper, and the missionary that opened the gates to the west. Their hardship has never been surpassed and their courage and fortitude seldom equaled." The Pageant Association can be reached at PO Box 274, Pinedale, WY 82941, www.meetmeonthegreen.com.

The Green River Rendezvous Program:
SCENE I: A Prelude to History; Opening Ceremonies; The Astorians; Pipe Lighting Ceremony.
SCENE II: Fort Bonneville; Arrival of the Free Trappers; The Mountain Men; Antelope Soldiers & The Shoshones.
SCENE III: Trapper's Bride; Bonneville vs. Chief Horse Race; Indian Dances; Father Pierre Jean DeSmet.
SCENE IV: The Dude; Pony Dance; The Protestant Missionaries.
SCENE IV History on Parade.

Cast of Characters:
John Hoback: Eric Schneider
Jacob Reznor: Jason Mickelson
Edward Robinson: Tyler Wilson
Wilson Price Hunt: Eric Maichek
Pierre Dorion: Grant Golden
Aioe Dorion: Des Brunette
Dorion Children: Ian and Ira Dickinson
Old Man Indian: Gil Winters
Capt. Bonneville: Mark Eatinger
Joe Walker: Van Huffman
Moses "Black" Harris: Ty Huffman
Harris' Bride: Hailey Kogianes
Jim Bridger: Jon Mickelson
William Sublette: Bernie Holz
Kit Carson: Floyd Roadifer
Jedediah Smith: Dan Stroud
Joe Meek: Dave Vlcek
Father DeSmet: Steven Pape
Andrew Dripps: Kent Cluck
Tom Fitzpatrick: Bill Webb
Sir William Drummond Stewart: Jared Rogerson
Antoine Clement: RJ Thompson
Lucien Fontenelle: Dennis Fornstrom
Marcus Whitman: Festus Krause
Narcissa Whitman: Kendall Brunette
Henry Spalding: Zach Thompson
Eliza Spalding: Jennifer Rogerson
Sign Interpreter: Mariah McKay
Alfred Jacob Miller: Preston Goulette

SHOSHONE INDIANS:
Antelope Soldiers: Sandy Kirkpatrick, Ken Marincic, Erin Marincic, Tina Marincic
Ma-Wo-Ma: Tim Thompson
Quinton Quay: Shane Costello
Wadze Weepay: Mary Ann Menster
Sweetgrass Woman: Gerda Dickinson
Chief Race: Zach Mortensen, Jesse Early

PONY DANCERS:
Cassie Webb, Jessica Mortensen, Jesse Early, Zach Mortenson, Norma Licking

WAGON TEAMS AND DRIVERS:
Dexter Smith (Pole Creek Ranch), Tom Worden, Kay Malkowski (Pape Ranches), Jim Malkowski, John Wayne Gillette, Morgan Malkowski

TRAPPER CAMP:
Van Huffman, Mark Eatinger, Tyler Wilson, Jon Mickelson, Grant Golden, Jake Brunette, Eric Schneider, Chuck Cundy, Wesley Schwab, Dyson Winters, Ty Huffman, Mike Schwab, David Stephens, Bernie Holz, Floyd Roadifer, Dennis Fornstrom, Brandon McKeown, David Smith, Gux Holz, Wayne Hartman, Jason Mickelson, Kent Cluck, Preston Goulette, Bill Webb, Dave Vlcek, Earl Houghton, Dayton Denton

INDIAN CAMP:
Audrey Schreiber; Shane, Michele, Jordan & Tayln Costello; Darby McMartin; Sarah Ritschel; Gerda, Kate, Ian & Ira Dickinson; Laurie, Cassie & Deven Lamere; Julie, Shaina, Becca & Aaron Belton; Tim, R.J. & Amanda Thompson; Jayne Thompson; Des Brunette; Mary Anne Menster; Janet Goulette; Sandy Kirkpatrick; Jileen, Clayton & Jenna Roadifer; Phylis Stevens & Devin Gracia; Taylor, Tadan & Melita Hansen; Lizzy Cooney; Therese Hartman; Sheila Collins; Paden & Kirk Anderson; Mychaela Kuhl; Abby Moller; Augusta Anderson; Matesi Mickelson; Carla Olds; Dillon, Sabree, Ryley Miceklson; Kiley Garcilaso & Yates Huffman; Linsay, Sawyer & Sadie Garcilaso Sierfkes; Janel & Lauryn Scurlock; Bekah Snapp; Erin & Ken Marincic; Julie & Sydney Mickelson; Adrienne Barnett; Peggy Bryant; Gil, Grady & Kade Winters; Amber Stephens; Emily DiBlasi; Tina Marincic; Meghann Durbrow; Kate & Zoe Belinda; Les Margo; Kathy, Matthew, Nathan & Katherine Bunford; Garrett & Bailey Lozier; Fallon Ramsey; Jordan & Justin Kirkpatrick; Rodney & Victoria Carter; Joey & Jonathan Cook; Hailey Kogianes; Laura & Sam Lopemen; Kimberly Ervin; Mariah McKay

RENDEZVOUS PAGEANT ASSOCIATION:
Mark Eatinger, Des Brunette, Van & Marilyn Huffman, Janel Scurlock, Mary Ann Menster, Julie Belton, Stuart Thompson

PAGEANT COMMITTEE CHAIRPERSONS:
Fundraising: Janel Scurlock; Advertising: Des Brunette; Pageant Operations: Gary Neely; Pageant Operations Assistant: Pam Boyle; Narrator: Vern Swain; Clean Up: Stuart Thompson; Cast Feed: Dave & Mary Lankford; Indian Camp: Janet Goulette; Make-up: Nancy Ritschel & Betty Golden; Pony Dancers: Julie Early; Sound System/Music: Bruce Kerback & Lars Michnevich; First Aid & Ambulance: Pinedale EMS Council; Wagon Teams & Drivers: Kay Malkowski & Dexter Smith; Trapper Camp Stew: Elaine Ullery; Tipi Crew: Van Huffman & Mark Eatinger; Props: Julie Belton; Ticket Sales & Program: Marilyn Huffman; Maintenance & Grounds: Mark Eatinger & Van Huffman; Insurance: Dave Bell; Casting: Des Brunette; Wild Flowers & Aspen Boughs: Van & Marilyn Huffman: Traffic: Sublette County Sheriff's Office & Wyoming Highway Department

THIS YEAR'S PAGEANT DEDICATED TO:
Naomi Pape, Lance Koppenhafer, Leda Reach, Ethelyne Worl, John Mackey

RENDEZVOUS PAGEANT SONSORS – THANK YOU
Pinedale Online, Town of Pinedale, Sublette County Tourism Board, Sublette BOCES, Sublette County Historical Society, Sublette County Sporting Association, Judi Myers, Dickinson Ranch Lil Penton, John Smith, Joann Neumayer. The Green River Rendezvous Pageant, Inc also tahks all the contributors, cast and community volunteers for all their time, support and help this year and every year. A special thank you to David Hohl for the fiddling prior to the pageant.

(Unofficial cast member and pre-program entertainment: Cottontail bunny rabbit)

Photos by Clint Gilchrist and Dawn Ballou, Pinedale Online!




Related Links