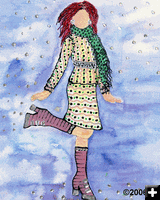 Lets Kick It

"Let's Kick It", by Cynda LuClaire, in memory of Naomi Pape.


Pink-Art, artwork by Cynda LuClaire
On display at Pinedale Library July 25-August 4
by Judi Roye
July 17, 2007

Locals launch Pink-Art, LLC, new online business honors Naomi Pape

Early retirement is the dream lots of baby boomers aspire to. Instead, Cynda LuClaire and Judi Roye decided to start a new business. LuClaire always wanted to make a living solely with her artwork and Roye wanted to experience starting a business. The two, who both have a child turning thirty-seven this month, decided to work together to make their dreams come true.

Pink-Art, LLC has launched its online counterpart www.pink-art.com this month. Selling prints made from original artwork by LuClaire is only part of what Pink-Art is about. The partners knew that giving back had to be part of their endeavor. For the next year they are donating half the profits from the sale of the print "Let's Kick It" to Kickin' Cancer in Sublette County in memory of Naomi Pape. Naomi's story is featured on the website.

Pink-Art donated a Lightjet print of 'Let's Kick It' to be auctioned at Kickin' Cancer's benefit dinner this month and it brought in more than $3500 for one of Naomi's favorite causes. Another Lightjet print was donated to SAFV for their August auction.

Because Pink-Art is about empowering women and girls LuClaire wanted to let budding artists display their work on her website. According to LuClaire, "I was in my forties before I started to paint. It never occurred to me that I might have talent! I want girls to be able to express themselves whether it's for fun or because they want to be artists."

The local owners of original artwork by LuClaire are featured this month in Pink Perspectives on the website.

An exhibit of LuClaire's artwork is planned for July 25 through August 4 in the Lovatt Room of the Sublette County Library in Pinedale. A reception with the artist will be held on Friday August 3 from 4:30 to 6:30 pm. Wine and hors d'oeuvres will be served.

For additional information contact: Cynda LuClaire - Artist/Designer, Pink-Art, LLC, cynda@pink-art.com, www.pink-art.com, Phone: 307-367-3330.