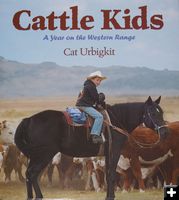 CattleKids

"Cattle Kids: A Year on the Western Range" is Cat Urbigkit's new non-fiction book, released this month by Boyds Mills Press.


"Cattle Kids" features Sublette County kids
by Pinedale Online!
July 30, 2007

Cowboys aren't necessarily boys. They aren't necessarily grown-ups, either.

In this lively new book by Sublette County writer/photographer Cat Urbigkit, young readers will meet girls and boys who live a unique way of life by working on their families' cattle ranches.

"Cattle Kids: A Year on the Western Range" is a photo essay featuring a variety of kids from throughout Sublette County as these cowgirls and cowboys take part in many aspects of livestock operations, from calving and branding to haying and rounding up the herd.

With a colorful and informative text, illustrated with action-packed photographs, Cat Urbigkit follows cattle kids through a year of ranching on the western range.

Urbigkit will be on hand to sell and sign her new book at the Sublette County Fair on Saturday at her livestock guardian display on Saturday, August 4, in the grassy arena from 9 a.m. to 3 p.m.

The Cowboy Shop in Pinedale stocks all of Urbigkit's books, which are also available from any book store or internet book outlet.