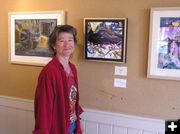 Artist Sue Sommers

Sue Sommers places a SOLD sticker on one of her paintings during her art show at the Pinedale Library.


Sue Sommers Art Show
by Pinedale Online!
June 12, 2007

Artist Sue Sommers has artwork on display until Thursday, June 21st, in the Lovatt Room at the Sublette County Library in Pinedale. The June show is an exihibit of new landscape paintings by the artist. Works are acrylic, and acrylic and collage, on canvas and paper. Many depict scenes around Sublette County including Clear Creek Natural Bridge and White Rock near Green River Lakes and Stroud Peak in the Bridger Wilderness.

All of the original paintings are offered for sale. Sommers is the graphic artist who did the layout and design for several local books that have been recently published including the Pinedale Centennial Book, The Fur Trade & Rendezvous of the Green River Valley, the Halfway Post Office book, and Sundown-the new book by Jeannette Showers-about the Circle S Ranch in the Upper Green.

To see more of Sue's artwork, go to www.suesommers.com.

Photo by Dawn Ballou, Pinedale Online!