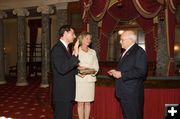 Barrasso Sworn In

Vice President Dick Cheney swears in John Barrasso as U.S. Senator on Monday. Bobbi Brown, who works as the state director in Craig Thomasí Casper office, looks on. Photo courtesy of U.S. Senate.


John Barrasso sworn in as U.S. Senator
Fills vacancy left by Sen. Craig Thomas
by Pinedale Online!
June 25, 2007

John Barrasso was sworn in as U.S. Senator for today in Washington D.C. Barrasso, a conservative Republican surgeon, was sworn in by Vice President Dick Cheney to fill the vacancy left by Wyoming Senator Craig Thomas, who passed away on June 4th while being treated for leukemia.

Barrasso, age 54, will serve until the beginning of 2009. A special election in November 2008 will decide who will finish Thomasís term, which runs to January 2013. Barrasso was appointed by Governor Dave Freudenthal last week from a short list of three Republicans nominated by the Wyoming GOP. Several members of Thomasís staff now work for Barrasso.