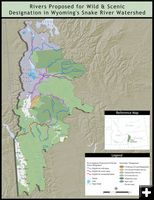 Proposed Wild & Scenic

This map shows the various river segments Senator Craig Thomas has proposed receive special protective status.


Wild Wyoming rivers proposed
Protection for Snake headwaters
by Cat Urbigkit
May 10, 2007

The Hoback River, along with some various other river segments in western Wyoming, could be protected from future development, if U.S. Senator Craig Thomas has his way.

Thomas recently introduced legislation that he said recognizes the very "best of the best" of some of Wyoming's most remarkable and pristine rivers and streams while providing a powerful new tool for local communities to attract sportsmen and visitors.

By designating sections of the Snake River and several tributaries as "Wild and Scenic," the Snake Headwaters Legacy Act of 2007 will create a lasting legacy for Wyoming people, for our tourism economy, and for future generations to enjoy the spectacular features of our rivers just as we do today, Thomas said.

A Wild & Scenic designation will protect these unique rivers while ensuring that access, multiple-use, and private property rights are not restricted. The public won't see any changes to management because the rivers are already being managed as eligible rivers.

"Today Wyoming folks and visitors from around the world experience unrivaled recreational opportunities including hunting, fishing, hiking, camping, and snowmobiling along these stretches," Thomas said. "And that will continue along with protection for the wildlife and habitat that our state is known for, that we love, and each of us benefit from."

"As we seek to improve destination travel in Wyoming, it's important to let folks know about the remarkable rivers our state has to offer," Thomas said.

My bill will designate the Snake River Headwaters and certain tributaries as among the cleanest and most free-flowing rivers our nation has to offer. I really see this as a badge of honor for our rivers – I know Wyoming will continue to gain from this distinction."

The Wild and Scenic Rivers Act recognizes the very best of the free-flowing rivers in the United States by preserving each river's "outstanding remarkable values" as defined by the Act.

The designation ensures that the water quality in the Snake Headwaters, which studies have shown to be the purest of any watershed in the lower 48 states, will be maintained as it is today and protected.

To date, 163 rivers totaling more than 11,000 river miles in 38 states have been included in the National Wild and Scenic Rivers System. Wyoming's only current Wild and Scenic waterway is a 20-mile stretch of the Clarks Fork of the Yellowstone River.

"We've had a great experience with the Clarks Fork designation in Yellowstone and I feel strongly about continuing to grow our tourism potential with these upcoming designations."

Senator Thomas' bill, S. 1281, would protect 21 segments along 14 rivers and streams in Wyoming.

Approximately 96 percent of the river miles protected under the Snake Headwaters Legacy Act flow across public lands.

"This will be a lasting legacy for Wyoming and for the visitors who enjoy the rivers, scenery, fishing, and wildlife we have at our disposal," Thomas said.

"These rivers generate millions of dollars annually to the state of Wyoming and will contribute to the economic stability of our local economies."

Fishing and float trips alone on the Snake River and its tributaries contribute from $10 to $20 million annually directly to the local and regional economies.

Local efforts to gain support for a Wild and Scenic designation have earned the support of a local chamber of commerce, two chapters of Sportsmen for Fish and Wildlife and numerous Wyoming outfitters, guides, and river companies.