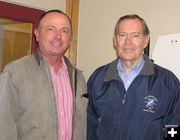 Monte Olsen

House District 22 (R)Representative Monte Olsen (left) with Wyoming Senator (R) Craig Thomas (right) in Pinedale last year. Pinedale Online file photo.


Olsen back in the saddle
House District 22 Representative (R), Monte Olsen, from Daniel, Wyoming
by Cat Urbigkit, Pinedale Online!
May 23, 2007

House District 22 Representative Monte Olsen is back at his home in Daniel, recovering well from injuries he received April 29 when his wife accidentally ran over him with the family vehicle. Olsen sustained 10 broken ribs, including four with multiple fractures. He sustained a collapsed lung, multiple fractures of his right scapula, three broken fingers on his left hand, and multiple facial fractures including his nose, jaw and right eye socket. Later this week, the wires will be removed from his jaw.

Despite the critical aspect of his injuries, Olsen's speedy recovery, indeed, is a success story. He's up and moving around, reviewing notes and materials for his legislative work and wants his constituents to know that he is continuing to address all necessary and important district business. He further added that he absolutely plans to attend three upcoming legislative committee meetings during the next few weeks.

As Olsen continues his legislative duties, he reminds his constituents that his contact information is: Monte Olsen, Box 186, Daniel, WY 83115, and his email address is monteolsen@wyoming.com. Until his jaw heals, Olsen cannot easily receive phone calls and, therefore, requests email or USPS messages. Both Olsen and wife Lisa Glenn thank everyone for their concern and support during this traumatic time, and will keep everyone updated regarding his recovery.