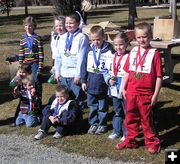 Winners

The kids posed for a group shot with all their medals from the Kids Winter Fun Olympics.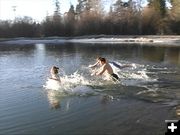 Winky Shrinker

Three people, and one dog, braved the frigid water for this year's Winky Shrinker Frozen Fishing Pond Plunge in Pinedale early Saturday morning. The water was "balmy" compared to last years twenty below temperatures and frozen pond.


Green River Valley Winter Carnival 2007
by Dawn Ballou, Pinedale Online!
March 24, 2007

The annual Green River Valley Winter Carnival was held on Saturday, March 24th in Pinedale. This year was a sharp contrast from last year's frigid -20 degree temperatures. Warm temperatures melted most of the snow and temperatures were above freezing.

The fun began at 8 o'clock AM at the Kid's Fishing Pond in Boyd Skinner Memorial Park for the "Winky Shrinker Frozen Fishing Pond Plunge." The pond wasn't frozen however, with just a little bit of ice lingering along one edge of the pond. Three hardy souls, and one dog, took to the challenge: Rob Shaul (6 Year Veteran Plunger), Annie O'Brien (Pinedale Roundup reporter) and Matt Geddes, who just moved here from Ogden, Utah. And Bella, Annie's dog, who follows her everywhere!

Water and temperature were somewhere above freezing. A small crowd of spectators gathered for the event, wearing light sweaters (no arctic hats and gloves as in other years).

With only three plungers, they decided to all go in together. With a running start, jump in they did, with a big splash. None stayed in too long, but when Annie lost her shoe and said she wasn't going back in to get it, gentleman Matt went back and retrieved it, leisurely swimming back to shore to hand it to her. Shortly thereafter, someone threw a stick into the water and Bella jumped in without hesitation too, making her the 4th participant.

How was it? "Nice and balmy this year," said Rob "Always refreshing. On the Winky Shrinker Scale, 10 being the shrinkiest, this year was a 7. Last year was definitely a 10," he said. "An 8," said Annie, "and as the only woman participant in this, I protest the sexist nature of the name." Matt said, "Wasn't as bad as I thought it was going to be."

Later in the morning, the Winter Carnival continued with the Kids Winter Fun Olympics at Boyd Skinner Memorial Park. The winter sports were slightly modified to take place on grass instead of snow, which the adults thought was a nice spectator change. The kids said they liked it better with the snow!

Events included the Snowpack Biathlon (sans snow), Mountain Girl and Boy Arm Wrestling, Eskimo Pie Bubblegum Chewing Race, Tuff Tundra Tugg of War and the Jack Frost Frozen Money Scramble.

Later in the evening, the Carnival switched to adult events at the Corral Bar with the Mountain Man & Woman Arm Wrestling Tourney and the Frostbit Princess Drag Beauty Pageant. Winner of the arm wrestling won $25 "plus braggin' rights" as champ. Winner of the Drag Beauty Pageant won $200.

The event was organized by Rob Shaul. Special thank you to Volunteers: Julia Stuble, Judi Adler, Susy Kramer, Tracy Hoover, Annie O'Brien, Judy Friend, Sue Holz, Mandy Boroff and Ranae Lozier.

The Green River Valley Winter Carnival was sponsored by ExxonMobil - Kid's Olympics. Sue at Heritage Quilts. Pinedale Roundup

Photos by Dawn Ballou, Pinedale Online!




Related Links