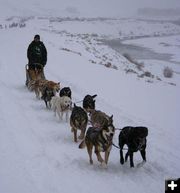 Matt Anderson

Matt Anderson, racing in the 2005 Green River Rondy sled dog race in Pinedale. Pinedale Online file photo.


Follow Pinedale's Matt Anderson in the Iditarod!
2007 Iditarod Sled Dog Race in Alaska
by Pinedale Online!
March 8, 2007

Pinedale local, Matt Anderson, is racing in the 2007 Iditarod sled dog race. We've created a webpage on Pinedale Online to track Matt's progress, with daily updates. The page has a map showing how far Matt has traveled, daily entries of where he has been and what's in store for him next, and links to more information on the official Iditarod website.

As of today, it is Day 6 of the 1150-mile race that takes mushers and their sled dog teams from Anchorage to Nome, Alaska. The trek takes teams, those who make the arduous journey, from 10-16 days to complete. Many don't finish. Matt is a rookie in the Iditarod, and is doing quite well, so far holding around the 29th-33rd position for the past several days. Out of 82 teams that started the race, 14 have already dropped out due to injuries, broken sleds, crashes, and various other reasons. Matt is making great progress and is nearing the half-way point of the race, checkpoint Iditarod, which he should make today (Thursday) if all goes well. The fastest racer will likely finish the race around next Tuesday. The slowest teams make take as long as another week beyond that to finally arrive at Nome.

26-year old Matt Anderson has worked as an environmental planner for the Pinedale Field Office of the Bureau of Land Management for the past two years.

Click on this link to get to Matt's page: Follow Matt Anderson in the 2007 Iditarod!