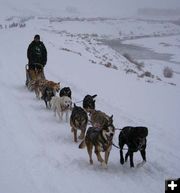 Matt Anderson

Matt Anderson competed in the 2005 Green River Rondy Sled Dog Race in Pinedale with his 12-dog team, racing under Lazy JC brand owned by Bob Bing. Pinedale Online file photo.


Pinedale Musher Matt Anderson racing in 2007 Iditarod
Race starts Saturday, March 3rd in Alaska
by Pinedale Online!
February 25, 2007

A Pinedale man, 26-year old Matt Anderson, will be racing in the 2007 Iditarod sled dog race in Alaska. The 1,150-mile race begins on Saturday, March 3rd. Mushers have teams of from 12 to 16 dogs and cover the race in 10 to 17 days.

Anderson began mushing in 2004. According to his website, in 2003 while he was living in Salmon, Idaho, he purchased a small team of Alaskan Huskies from Doug Swingley. He started training in the mountains around his home in Idaho. "I soon realized I needed to live in a place where I could "run" out of my back yard during the winter, and Salmon wasn't it. The dogs and I moved to Pinedale, WY. Pinedale has ample cold, snow, elevation, mountains, and groomed trails. It's a great place to train dogs!"

Anderson serves as the Pinedale Anticline Working Group (PAWG) Coordinator for the Pinedale Field Office of the Bureau of Land Management (BLM). He has been a Planning & Environmental Coordinator for the BLM for the last two years.

He is happy to accept sponsorships to help pay for the expenses for himself and his team for the Iditarod race. He anticipates the cost will be approximately $22,000. Sponsorships start at $250 and up. Business sponsors get a sled-dog tour for any of their employees who visits his dog yard in Pinedale as well as a speaking engagement for their employees about the Iditarod race and teamwork, in addition to being listed on his website and various other advertising locations. Anyone interested in sponsoring him can find more information on his Sponsorship page on his website or e-mail him at mattanderson@iditarodiowan.com, or write to:

Matt Anderson
2007 Iditarod Musher
P.O. Box 2341
Pinedale, WY 82941
(307)367-5328

In 1925, part of the Iditarod Trail became a life saving highway for epidemic-stricken Nome, Alaska. Diphtheria threatened and serum had to be brought in, accomplished by hardy dog mushers and their faithful hard-driving sled dog teams. The Iditarod sled dog race is in commemoration and honor of those brave Alaskans of yesteryear.

According to the official Iditarod website, "The Iditarod is known worldwide as the Last Great Race on Earth. The route is now a National Historic Trail and follows much of the supply line that moved goods and mail from the open water port of Seward through the Interior mining camps of Flat, Ophir and Ruby and beyond to the coastal towns of the Seward Peninsula including Nome."

Race organizers operate on a $2 million budget for the annual event. A group of veterinarians from all over the United States, and sometimes even from Europe, take time out from their busy practices to assist with dog care duties along the trail. Trail breakers on snow machines proceed the field of mushers, cutting trail, marking trail, and packing trail in windswept areas, trying to give each team a safe path to follow.

Iditarod sponsor, Cabela's, has a page on their website where readers can vote for their choice of "Iditarod Rookie of the Year". Matt Anderson is the first one listed on this page. This is a fun poll for Iditarod race fans, intended to gauge fan support and opinion. The actual Rookie of the Year award is based upon individual performance during the race, and will be determined by the Iditarod International Trail Race Committee. You can only vote one time.

Those who wish to follow the Iditarod sled dog race online can find streamed coverage at www.iditarodinsider.com/.

Related Links:
Iditarod website, www.iditarod.com
Musher Profile for Matt Anderson
Matt's Iditarod website, www.iditarodiowan.com
Online Iditarod streaming coverage, www.iditarodinsider.com/
Follow Matt in the Race!