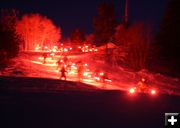 Night Skiing by torchlight

Roughly 100 people headed up the White Pine chair lift on New Year's Eve to light torches and ski down the Bonneville run for the annual Torchlight Parade to celebrate the new year. Photo by Fred Pflughoft.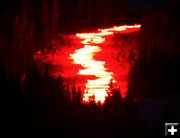 Lights on the Mountain

The lighted torches held by the skiers made a spectacular night-time display during the Torchlight Parade on New Year's Eve. Photo by Dave Bell.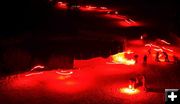 Skiing to the base

The parade of skiers converged at the base near the lodge, casting an eerie glow. Afterwards, participants enjoyed hot chili and cornbread in the lodge. Some people just enjoyed watching the parade of lights from the vantage point of the lodge balconies. Photo by Dave Bell.