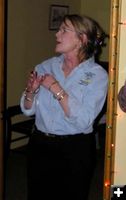 Gayle Kinnison

Gayle Kinnison during the 2005 Green River Rondy Sled Dog Race Calcutta at Bottoms Up Brewery in Pinedale.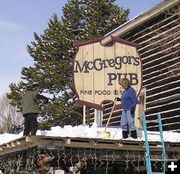 Gayle shoveling snow

Gayle shoveling snow from the roof of McGregor's Pub after a huge snowfall in Pinedale in February, 2004.


Gayle McMurry Kinnison passes away Dec. 17
by Pinedale Online!
December 19, 2006

Gayle McMurry Kinnison passed away unexpectedly on Sunday, December 17, in Montecito, California, of a heart attack. "She died very peacefully in her sleep on Sunday afternoon," said Yasmin Braban, Kinnison's private assistant in Pinedale. A memorial service is planned for sometime in early January in Pinedale.

She was born March 5, 1949 in Casper, Wyoming to W. N. and Ellie McGregor McMurry. She graduated from Natrona County High School in 1967 and attended Casper College and the University of Wyoming. She owned Bottoms Up Brewery in Pinedale, as well as several businesses in Pinedale and Jackson, Wyoming. She was a partner of the Warren Livestock Ranch in Cheyenne and Laramie, Wyoming.

She was preceded in death by her mother, Ellie McGregor McMurry. She is survived by her father, W. N. McMurry and her step-mother, Doris of Casper; her son, A.O. Kinnison of Montecito, California. She is also survived by her brothers and sisters: Carol McMurry and her husband, Pat Spieles of Loveland, Colorado.; Mickey McMurry and his wife Susie of Casper, Wyoming.; Victor McMurry of Pinedale; and Susan Samuelson and her husband Doug, of Cheyenne, Wyoming. She is also survived by her step-children Chelsea Smith and Jesse Kinnison and numerous nieces and nephews.

Her father had notable success in the areas of oil and gas and in road and building construction. In 1982, he founded McMurry Oil, which developed into the Jonah Field south of Pinedale, a huge natural gas producing area.

The family has made it a priority to be generous and giving to charitable and worthwhile causes throughout Wyoming. In 2005, Governor Dave Freudenthal presented her father, W. Neil McMurry, with the Newell B. Sargeant Spirit of Philanthropy Award during Wyoming Philanthropy Days. The Wyoming Community Foundation said for that occasion, "Despite his years of giving, possibly his greatest contribution has been to impart his philanthropic spirit to each of his children. Carol McMurry, Mickey McMurry, Victor McMurry, Gayle McMurry Kinnison and Susan McMurry Samuelson have supported numerous benevolent projects in their communities and throughout the state of Wyoming."

Gayle was also very active in community affairs in Pinedale and throughout the state of Wyoming. She was a strong supporter of local arts, cultural programs and the local museums.

Through generous contributions to the Wyoming Community Foundation and her Gayle McMurry Kinnison Donor Advised Endowment Fund, she donated to organizations across Wyoming. She was also a supporter and donor to the University of Wyoming in Laramie and the Denver Children's Hospital Foundation in Colorado.

She was a major sponsor of the Pinedale Blues Festival and the Pinedale Stage Stop of the International Pedigree Stage Stop Sled Dog Race (IPSSSDR), as well as a generous supporter of the Pinedale Fine Arts Council, Museum of the Mountain Man, Rendezvous Days, and many other local events, organizations, causes and charities.

In 2000, Gayle was recognized along with her sisters, Carol McMurry and Susan Samuelson, by the University of Michigan as "Women in Philanthropy" for their $5 million dollar donation to the Wyoming Community Foundation for endowment.

Memorials may be sent to the Wyoming Women's Foundation in care of the Wyoming Community Foundation, 313 S. 2nd, Laramie, Wyoming 82070 or to the charity of the giver's choice.

Bottoms Up Brewery in Pinedale is presently closed, but will reopen on Wednesday evening, December 20th.




Related Links