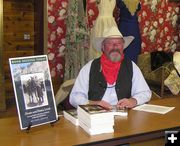 Paul Jensen

Paul Jensen signing books at the Green River Valley Museum in Big Piney.


Book Signings: Paul Jensen Bondurant book
by Pinedale Online!
December 6, 2006

Paul Jensen's new book, "Hard and Noble Lives: A Living Tradition of Cowboys and Ranchers in Wyoming's Hoback Basin" will be available shortly in local bookstores. This history of the Bondurant area is a great read for any local or would-be local! Several book signings have been scheduled before Christmas in various locations in Sublette County and in Jackson. This is a great gift idea for those who love books about the local area.

The book is a narrative history of the settlement of the Hoback Basin in western Wyoming. It contains many photos. "Jensen's book is filled with fascinating and unusual characters whose life stories are the stories of ordinary people who did extraordinary things. They remind us of how the West was really won and how much history has been shaped by the courage and determination of 'ordinary' people," says a release about the book.

Book Signings:

Monday, Dec. 18: Green River Valley Museum Big Piney
3:00-6:00 p.m. (refreshments will be served)

Tuesday, Dec. 19: Valley Bookstore Jackson
3:00-5:00 p.m.

Wednesday, Dec. 20: Rendezvous Pointe Pinedale
1:00-2:00 p.m.

Thursday, Dec. 21: Cowboy Shop Pinedale
3:00-6:00 p.m.

Photo by Dawn Ballou, Pinedale Online!

Friday, Dec. 22: Obo's Market & Deli Pinedale
11:30 a.m.-1:30 p.m.