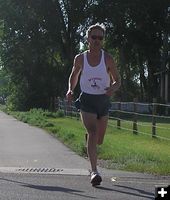 Ken Konicek

Ken Konicek running in the Chuckwagon Days Chuckwagon Chug last July.


Ken Konicek runs New York Marathon
by Dawn Ballou, Pinedale Online!
November 10, 2006

Pinedale resident Ken Konicek ran in the New York Marathon on Sunday, November 5th. He finished the run in just over three hours, the second fastest time for his age group (55-59) for an American. Konicek was very happy with his time. "It was way better than last year, when I ran it with a herniated disk."

This is the 5th consecutive year Konicek has run in the New York Marathon. "I've run it every year since my son, Jordan, went back east to college."

Konicek placed 9th out of 1625 in his age bracket. Overall, some 38,000 runners finished the race this year. "I try and tell myself I am doing it just for fun," he said, but he still also likes to place in the top 10 percentile when he runs a race.

He said he ran along with Lance Armstrong for awhile in this year's Marathon. "It was pretty crazy," he said, because of the media attention surrounding the famous bicyclist. There were motorcycles, television cameras and a lot of people around Armstrong.

Konicek is an avid runner and trains throughout the year, a real challenge in rural Wyoming. He participates in as many races as he can each year. Locally, he can be found running in the Chuckwagon Chug during Big Piney's Chuckwagon Days over the 4th of July, the Rendezvous Ramble held in July during Pinedale's Green River Rendezvous Days, the Pinedale Half Marathon held in September, and the Thanksgiving Turkey Trot 5000.

Next year, Konicek plans to run in the Senior Olympics, which will be held in Louisville, Kentucky. That event has a 5K (3.1 mile) and 10K (6.2 mile) race. "I'm not that good of a sprinter, but I get to try," he said. "I did it two years ago. It's a whole different kind of training." Konicek has not yet decided if he will run in next spring's Boston Marathon. "I qualify, so it's pretty tempting to go," he said. The challenge is keeping his training up during the cold, snowy, icy months of Wyoming winters.

Described as "one of the world's greatest road races", the ING New York City Marathon draws more than 90,000 applicants. The race attracts many world-class athletes to compete for the $600,000 in prize money, or just for the thrill to run the race and cross the finish line. The event draws some two million cheering spectators and 315 million world-wide television viewers.

The first New York Marathon began in 1970 and consisted of four plus laps of Central Park. Runners paid a $1.00 entry fee to participate in the 26.2-mile race. Seven years later, in celebration of the country's bicentennial, the marathon was moved to the streets of New York, passing over bridges and finishing up in world-famous Central Park. In 2000, organizers added an official wheel chair division to the marathon.

"I will probably go back and run it again next year," Konicek said. "At this point, my time keeps me automatically qualified to enter."

"The start of the race is pretty crazy with 38,000 people all lined up ready to run," he said. This year he had one of those "it's a small world" experiences at the race. While waiting with the throng at the starting line, he heard a voice say, "Hey, Pinedale, how are you doing?" He looked over to see another runner who was in the Pinedale Half Marathon this past September. "I looked over and here's this guy who beat me in the Pinedale Half Marathon, standing near me at the starting line!"

For more information about the ING New York City Marathon, go to www.ingnycmarathon.org. Individual athletes can be searched by typing in their name or their age bracket.