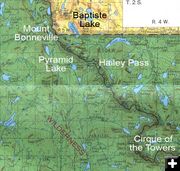 Map of Pyramid Lake area

Map of Pyramid Lake area of the Wind River Mountains along the Continental Divide. Pyramid Lake is approximately 20 air miles northeast of the town of Boulder, 10 air miles east of the Scab Creek Campground and trailhead, and 4 air miles northwest of Cirque of the Towers.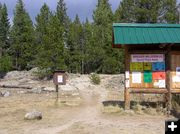 Big Sandy trailhead

Ken Koski signed in the trail registry here at the Big Sandy trailhead. Pinedale Online photo, 9/9/06.


Search continues for man missing in Wind River Mountains
Ken Koski, Wyoming State Public Defender missing from Pyramid Lake area
by Dawn Ballou, Pinedale Online!
September 11, 2006

Updated 12:00 pm, Friday, Sept. 15:
Here are more details about the search conclusion from Sublette County Sheriff's Office Undersheriff Jim Whinnery and our conversations with others familiar with the area.

Mr. Koski apparently fell approximately 400 to 500 feet from the summit of Mount Bonneville. It is not known why he fell. He landed in a crevice or a ledge on the side of the mountain.

It is not believed that he was using a rope at all or even known if he was actually climbing. Officials believe he was on top of the mountain. The exact cause of death has not been officially announced, but with the distance he fell, the blunt trauma likely made the fall a fatal one.

The majority of the clothing Mr. Koski was wearing blended in with the terrain and rocks around him, making him very difficult to spot until the search climbers were very close to him. The terrain on the side of Mount Bonneville was a boulder field with many crevices.

The terrain ranges from 9500 feet to 12,600 feet elevation. Mount Bonneville is 12,585 feet high, several miles northwest of Pyramid Lake. He last entry in his personal journal was on Tuesday, September 5th. Hikers who camped near him did not see any activity at his campsite when they arrived on Wednesday afternoon on September 6th until they left on Saturday, September 10th. Search efforts did not begin on the ground until Sunday morning, September 11th.

Mr. Koski was found by members of the Skinner Brothers Climbing team. The Skinner family has deep roots in the area as outfitters and guides as well as running their own youth wilderness camp in the Wind River Mountains for many years. Todd Skinner was one of the two climbers who found him. According to Monte Skinner, the Mount Bonneville area has a lot of crumbly "rotton rock", which could easily cause a fall.

He was discovered a little before noon on Thursday, September 14. Mr. Koski's body was recovered later in the afternoon after the weather cleared and helicopters were able to fly safely back into the area.

The two climbers who initially found him stayed with him on the side of mountain until the helicopters could get in. A long rope was attached and his body was lowered to the ground. He was then taken to a waiting helicopter and transported to the Pinedale airport, where his body was turned over to the Sublette County Coroner. It has not yet been announced if the Coroner will do an autopsy.

A helicopter later went back into the area and picked up the two rescuers who climbed back down to a safe area where the helicopter could land.

When asked if he would like to make any other comments, Undersheriff Whinnery said, "This search could not have been done to this magnitude without the help of the many volunteers, Tip Top Search and Rescue, search and rescue teams from Fremont and Teton counties and the many other people who participated. This search could not have happened without the help of all these people. Sheriff Wayne Bardin and I would especially like to thank Evergreen helicopters. Without the use of their three helicopters, the search would still be going on now. They put themselves at risk and did phenomenal things as helicopter pilots."

The Koski family wrote the following message which was posted on the www.kenkoski.com website: "We simply cannot thank the rescue and search teams, friends, volunteers and the community enough. To everyone who came together to help us in the search or offer support by phone, email, and prayers, we Thank You."

They also said Ken loved Mount Bonneville because he said it was the one he always wanted to conquer. They quoted from a journal entry that he wrote: "There is no place that I would rather be than right here, right now, unless it was with my family."

The family wrote that as hard as this loss is on friends and family, if Ken were here, he would say, "That's life..." In a journal entry from a backpacking trip Ken and his son Chris took a month prior, Ken wrote, "Quitting is NEVER an option! Life is good."
_________________________

Update 10:20 am, 9/15/06: A new message board has been set up on the www.kenkoski.com website for those who wish to send a note to the family.
___________________________________________________

THURSDAY, September 14, 2006 Update, SEARCH DAY 5
The Sublette County Sheriff's Office has regrettably announced the finding of a body on the southeast side of Mount Bonneville, in Sublette County, today (Thursday, September 14), at about 11:50 am. It is tentatively believed to be the body of Ken Koski, who has been reported missing since September 9, 2006. He was found by members of the Skinner Brothers Climbing team out of Sublette County.

Searchers will have to perform a tactical climb to get to the location of the body for further identification and recovery.

Sheriff Wayne Bardin and all those who have been involved in the search extend their condolences to the family, friends and co-workers of Mr. Koski.

Sheriff's Office Press Release

(Update 8:00 am, 9/14/06): Search and Rescue teams continue their efforts to locate a man who is missing in the Pyramid Lake area of the Wind River Mountains. This is Day 5 of the intensive search efforts which are being done on foot, horseback, with K-9 search dogs and by helicopter. The search is being coordinated by the Sublette County Sheriff's Office Tip Tip Search and Rescue and assisted by Fremont & Teton County S&R teams. Many volunteers are also helping.

The Koski family would like for any donations to go directly to the volunteer search and rescue organizations. They have told us they do not want any donations coming to the family.

Have hope! "He is always prepared"
The Koski family shared a number of their e-mails with us yesterday which talked about Ken. One point that came across very clearly is that the family has not given up hope. Ken was an experienced outdoorsman who carefully prepared for his trips into the backcountry. Even out on a day hike, Ken would be well dressed and be carrying food, water and survival gear. The Koski family's conviction and positive determination gives inspiration to everyone following this story and the search efforts. Knowing how he was always so carefully prepared lends hope that even if he is injured somewhere, he may be hanging on waiting to be found by all the searchers out looking for him.

Here are some of the Koski family's comments and descriptions of how Ken prepared for his trips. We want to share these as quotes, rather than us paraphrasing what they said, because their words are so compelling and give so much renewed hope as each day passes in the search:

From Ken's sister: "We are overwhelmed with people's concerns and offers of help and they are much appreciated. Ken is not one that likes to be the focus of any kind of attention. In fact his birthday was September 6th, and he always likes to get away that week to avoid any celebration."

From one of Ken's daughter: "We have been getting calls from people thinking that dad is not well prepared and that they are afraid he was unprepared. I just wanted to give you some information that you might be able to help that might raise anyone's hopes and give them a little more optimism. Anytime since I have gone backpacking or hiking with my dad he overloads on preparation. He always has his GPS with him, plus his topo maps and another map. My dad since I was little has always taught me you do not get off a trail, no matter what. Dad also packs two quarts of water, two bottles of iodine tablets, his water purifier, he has bear spray at all times, copies in a ziplock bag of tons of maps and books, an orange pooper scooper/toilet paper, matches in a ziplock bag, a huge military poncho, an array of food (twizzlers, sausage, crackers, cheese, nutter butters, tootsie rolls, and of course the trail mix). He has his walking stick, a flash light, he layers his socks with two nylon thin socks, then a huge pair of wool socks and never takes them off except to put on some foot powder, he always layers his clothing and can take any layer off at any time, he has long underwear, hat gloves (especially his orange hat), a bandanna, wool sweatshirt, my dad is always well prepared. . He even takes a little notepad and pen in case he runs into people on the trail. My dad is well prepared for survival and knows what to do in case of emergency. He will even carry tylenol and anti-diarreheal in his pack! My dad is not one to get lost because he studies a map every chance he gets."

The Koski family sent this message saying: "We are very greatful for the tremendous search effort and sincerely appreciate everyone's prayers and support."
___________________________________________________

WEDNESDAY, September 13, 2006 Update: SEARCH DAY 4
Search organizers are now looking for volunteers to assist in the search. If you are interested in helping, contact the search organizers with the following information: First & Last Name, Address, Phone Number, Physical Condition, Experience, Availability. E-mail this information to koski@kinneynds.net and put "Volunteer" in the e-mail Subject Line. Please do NOT head out to help until you have been contacted by the search team about how they can use your assistance.

Additional search dog teams arrived yesterday from Utah to help with the search efforts.

DONATIONS
The Koski family asks that any donations go directly to the volunteer organizations that are conducting the search efforts. They do not want any money to come to the family.

Anyone who wishes to donate to Sublette County's Tip Top Search and Rescue organization should make their donation check out to: "Tip Top Search & Rescue" and mail it to: Tip Top Search and Rescue, c/o Sublette County Sheriff's Office, PO Box 701, Pinedale, WY 82941. These donations are used by Tip Top as they see their needs are, not just towards this particular search, whether it is to buy new ropes, heavy coats, blankets, climbing gear, and so on. Donations for other participating Search and Rescue organizations should be made out to the name of that organization and mailed to that respective entity.

According to the Sublette County Sheriff's Office, the counties are reimbursed by the state for all their search and rescue efforts they conduct throughout a given year. Some people have suggested this search might be getting special attention because of the high-profile nature of the victim, however we have been assured that these same efforts would be put into any search in the county for any victim who needs help. The counties turn in receipts for their expenses to the state, and they are then reimbursed. Hunters and Fishermen: When you buy your licenses and are asked if you want to donate that $1.00 towards state search and rescue, that is where that money is going to.

___________________________________________________

TUESDAY, September 12, 2006 Update: SEARCH DAY 3
A website has been set up by the family with more information about the search: www.kenkoski.com.

Press reports are indicating Ken Koski was supposed to return on Friday, September 8th, however his own entry in the hiker register log at the Big Sandy trailhead said he planned on coming out on Saturday, September 9th.

Pyramid Lake is approximately 12 miles in from the Big Sandy trailhead in the Wind River Mountains. It is very rugged terrain making search efforts extremely difficult. The high country received a dusting of snow on Friday night, and weather was showery earlier in the week. Temperatures warmed and skies cleared Sunday and today.

Additional helicopters from F.E. Warren Air Force Base in Cheyenne have reportedly also been dispatched to help in the search, according to the www.kenkoski.com website. Family members and friends have also come to the area to join the search efforts.

Many people are working behind the scenes to help support the search effort. The Boulder Store fixed lunch for 60 people today. Sue Eversull from Rendezvous Pointe is fixing supper for 70 people. C-Store catering from Rock Springs will be on site to make breakfast in the morning. Evergreen Helicopters is supplying helicopters for aerial searching.

Anyone who has seen Ken Koski since Wednesday, September 6th, or who has any information at all about his whereabouts, is asked to contact the Sublette County Sheriff's Office in Pinedale, telephone 307-367-4378.

Description and printable flyer:
Ken Koski is described as a white male, 56 years of age, 5'8" tall with brown hair and hazel eyes. He weighs approximately 165 pounds and wears silver glasses. His clothing is believed to be green wool pants, a red t-shirt with a gray/blue pull-over light jacket, bright-colored headband, an orange stocking cap and orange heavy coat. He was wearing vibram sole boots. If seen, please notify the Sublette County Sheriff's Office at 307-367-4378, ext. 0. (Ken Koski Missing Person Flyer Printable PDF from the Sublette County Sheriff's Office)

Editor's Note: Big Sandy Lodge is very close to the search staging area. This is a remote location and this lodge does not have phone service, computer access or electricity. E-mails sent to their website may not be checked for several days since the staff must come down off the mountain to check their e-mail. Please contact the Sheriff's Office to relay messages to anyone connected with this search and do not e-mail Big Sandy Lodge for anything that is urgent or requires a quick response.
___________________________________________________

MONDAY, September 11, 2006 Update: SEARCH DAY 2
Sublette County Search and Rescue personnel are continuing a search today for a backpacker who is believed to be missing in the Big Sandy area of the Wind River Mountains.

The man, identified as 56-year-old Ken Koski, the Wyoming State Public Defender, did not return from a backpacking trip to the Wind River Mountains last week.

According to a news release Monday morning from the Office of the Wyoming State Public Defender's Office, "Ken is a very experienced back-packer and camper and is well familiar with the Wind River Range. He was camped alone near Pyramid Lake. He was last seen by an acquaintance on September 3, 2006 on the trail to Pyramid Lake, and he was expected to return to Cheyenne by September 8, 2006."

Koski was reported as a possible missing person on Saturday by backpackers in the area who were camped near him. They became concerned late last week when they did not see any activity at his nearby tent site for several days. He was last known to be at his tent campsite on Tuesday, September 5th.

The Sublette County Sheriff's Office Tip Top Search and Rescue teams went in on Sunday morning and have been joined by search and rescue crews from Teton and Fremont Counties to look for the missing man. Helicopters have been provided by several agencies to conduct aerial searches of the remote and rugged terrain on both sides of the Continental Divide. Crews with search dogs are also now working the area.

According to a Sublette County Sheriff's Office news release Monday morning, the search is being helped by three helicopters from Evergreen Helicopters and ground crews from Sublette County Tip Top Search and Rescue, Teton County Search and Rescue, Fremont County Search and Rescue, Wyoming K-9 Search Dog teams, Sublette County Emergency Management and the Sublette County Sheriff's Office.

A website has been set up for more information about the search: www.kenkoski.com. According to an update this morning on the website by the family, "Friends and family backpacked in and met the Sheriff's dept at 9 am at base camp. There is a group of horse searchers as well, but it takes a day on horse back to make it the 12 miles in, which is why search and rescue is handling everything. Teton county search and rescue and Sublette are both there now, and more teams were on there way."

The Big Sandy area is popular with backpackers and technical rock climbers. Pyramid Lake is approximately 12 miles in from the Big Sandy trailhead.

All inquiries or information anyone wishes to provide should be directed to the Sublette County Sheriff's Office in Pinedale, telephone 307 367-4378.




Related Links