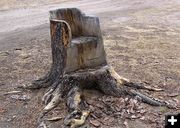 Tree Chair

This unusual chair is carved out of a tree stump. It is one of the many unique features at the historic Big Sandy Lodge. Photo by Dawn Ballou, Pinedale Online.

Horseback riding at Big Sandy
September 8, 2006
Guests enjoy a day horseback ride from Big Sandy Lodge to Diamond and Meeks Lake on Saturday. Their reflection, along with the beautiful fall colors of the aspen trees, is mirrored almost perfectly in the calm waters of Mud Lake.

Big Sandy Lodge is located close to the Bridger Wilderness boundary in the southern Wind River Range. This historic guest ranch was established in 1929 as a tent camp by Finis Mitchell. It is so remote they still do not have electricity or phone service, and they make a trip to town once a week for food and supplies.