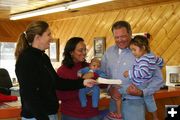 Signing up for the Marathon

Pinedale Mayor Steve Smith, his wife Ana Cuprill, their 3-year-old daughter Sofie, and 1-month-old Nicolas, have all signed up to participate in the 10K event. Photo courtesy Sublette County Joint Tourism Promotion Board.


Entries still accepted for Half Marathon
13-mile, 6.2 mile and 1-mile fun Walk/Run Sept. 23
by Sublette County Joint Tourism Promotion Board
September 19, 2006

Entries are still being accepted for this weekendís annual Pinedale Half Marathon events. This is the third year for the annual event, which will be held on Saturday, September 23rd in Pinedale.

Race organizer, Cally McKee, emphasizes that this event is open to everyone - as we have something for all ages and all levels of fitness.

"If you are not up to running or walking the 13-mile half marathon, then choose the 6.2 mile (10K) or 1-mile event. We have over 80 years between the youngest and oldest entrants this year. Former mayors Rose Skinner and Jay McLean have already entered in the 1-mile, and today we have accepted an entry from current Pinedale Mayor Steve Smith, his wife Ana Cuprill, their 3-year old daughter Sofie and 1-month old son, Nicolas," said McKee.

EnCana USA has generously agreed to continue their sponsorship of all three events and also invite the community to join in a picnic to be held from 11 am to 1 pm at American Legion Park. McKee would like to remind everyone, "that you donít have to run or walk in any of the events to come and join us for the picnic. So, bring your friends and family. Iíve checked the forecast for Saturday, and it promises to be another warm fall day with temperatures reaching up to nearly 70 degrees F, and join us for a community BBQ cooked by the Lionís Club on their fancy new grill."

Anyone still wanting to participate can enter online at www.pinedalehalfmarathon.com or pick up an entry form at the Visitor Center on the corner of Pine Street and Fremont Lake Road, across from Falerís General Store any day this week. Entries are accepted right up to the starting gun, which for the Half Marathon is 8:30 am at American Legion Park. Immediately following, buses will depart from the park to Fremont Lake for the 10K start at 9:30 am. The mile walk leaves from American Legion Park at 10:30 am.

"Everyone crossing the finish line will receive a medal," promises McKee, "even if you complete the course in a stroller. Moms and Dads are welcome to bring their youngsters out for the 1-mile. Last year we also had wheelchair-bound entries from the Sublette Center, and we look forward to them coming out again this year," she said.

Local marathoner, Ken Konicek, predicts the first runners will cross the finish line before 10 am and will be able to take advantage of massage services provided by local therapists.

For more information contact the organizers at 1-800-542-2632 or 307-367-7433, or Mindi Crabb at the Sublette County Visitorís Center at 307-367-2242.