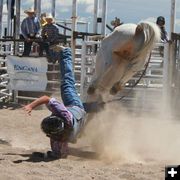 Chuckwagon Days Sponsor

EnCana USA helped sponsor the Little Buckaroo Rodeo as part of July, 2005 Big Piney Chuckwagon Days.

EnCana gives to Sublette County and Wyoming
More than $900,000 in charitable contributions in 2005
December 20, 2005
Most of us donít realize how much behind the scenes generosity is being done by the big oil and gas companies operating in Sublette County and across Wyoming. Yes, these companies are making a lot of money pulling natural gas and oil out of the ground on federal energy leases. It says a lot for these big companies whose employees are actively integrating into the local communities and for the corporate offices that are making generous donations and grants to organizations in need throughout Wyoming.

In 2005, EnCana Oil and Gas (USA) Inc, donated over $903,000 in grants as part of community investments in Wyoming. They contributed over $234,000 to Sublette County causes, $224,775 to Sweetwater County organizations, $119,250 to Fremont County and over $325,000 to other Wyoming charitable causes.

EnCana Community Relations Advisor Randy Teeuwen said, "EnCana strives to make a positive difference in the communities where we live and operate. Whether itís expanding education or donating to the local Christmas food drive, weíre committed to being good corporate neighbors and strengthening the economic and social well being of our communities."

EnCana gave us a three-page list detailing their charitable community investments in Wyoming this past year, which didnít include the matching gift contributions. We commend EnCana for their support of worthy causes and organizations throughout Wyoming and their willingness to become actively involved in our local communities.

Below are some of the organizations in Sublette County that EnCana donated to this past year (partial list):
High Country Counseling: Expansion of the Drug Court Program & Facilities
Sublette County Library Foundation: Spanish Language Collection
Sublette Center: Health Care Provider Information Color Booklet
Kickiní Cancer in Sublette County: Barn Dance & Vintage Truck Auction
Pinedale Food Basket: Christmas Basket Food Drive
Big Piney Food Basket: Christmas Basket Food Drive
Big Piney Branch Library: 2005 Summer Reading Program
Childrenís Discovery Center: Construction of after-school playground
EnCana High School Scholarships: 4, $10,000 scholarships for Pinedale & Big Piney HS
Chuckwagon Days: Little Buckaroo Rodeo, Big Piney
Pinedale Half Marathon: 2005 Pinedale Half Marathon
Rendezvous Pointe: Senior Citizen Photo Contest
Sublette Citizens for Recycling: Outside Recycling Program
Sublette Co. Chamber of Commerce: Community Clean-up Days
Sublette Co. Historical Society: Green River Rendezvous Days
The Learning Center: "Bowl for Kids"
Sublette County Extension: National Volunteer Week
Pinedale Fine Arts Council: Drum Brothers performance, lecture, workshop
Greater WY Big Brothers Big Sisters: Start up funds
Pinedale Volunteer Fire Department: Toys for Tots

In addition, EnCana contributed to many other causes across Wyoming. Donations include: American Red Cross (Katrina victims), Cowboys Against Cancer, Fremont County Search & Rescue, Western Wyoming Community College, Central Wyoming College, Rocky Mountain Oil and Gas Training Center, Fremont County School District No. 6, Sweetwater County School District #1 Math Counts, Sweetwater County Fair, Wyoming State Fair, American Heart Association, Riverton Little League Baseball, Sweetwater County United Way (Tsunami relief), Wyoming Special Olympics and many other organizations too numerous to list.