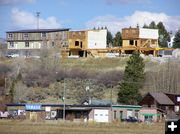 Sledding Hill Condos

New construction going up adjacent to the Pinedale sledding hill on the east end of Pinedale.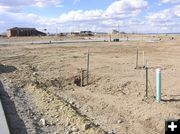 Westside of Pinedale

New roads going in on the west end of Pinedale behind Alpenglo Real Estate and just south of US Highway 191.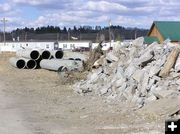 Service Improvements

The Town of Pinedale has been digging up streets all summer to make improvements to sewer and water infrastructure.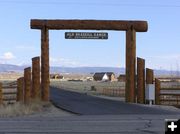 Old Brazzill Ranch

Many new homes are being built in the Old Brazzill Ranch Subdivision just south of Pinedale, east of US Highway 191.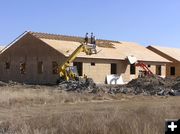 Redstone Construction

New construction for multi-family homes is quickly filling in the lots of the Redstone area of southwest Pinedale, south of Highway 191.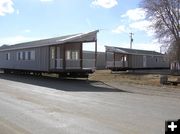 New homes in town

Manufactured homes are an easy way to get a home in place quick considering Wyoming's short building season and difficulty current getting on the job list for local contractors.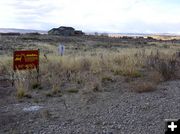 Glacier Hills Lot

The Glacier Hills Subdivision is located on Orcutt Hill, on the north end of Pinedale. A 2-1/2 acre lot is currently listed for over $154,000.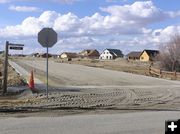 Fox Willow Subdivision

The Fox Willow Subdivision is located in south Pinedale, west of Tyler Avenue and south of the twin bridges on Pine Creek.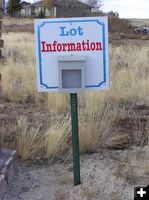 Empty Box

Real estate literature doesn't last too long in the rack anywhere these days with so many people looking for property for investment purposes or to build their dream home in Pinedale.


Pinedale Drift
What's going on in Pinedale right now?
by Dawn Ballou, Editor, Pinedale Online!
October 31, 2005

Pinedale is booming. It's the end of October, the time of year we used to see a significant slow down in town. Tourists have pretty much left, the local Snow Birds are heading for warmer climates, and Faler's General Store usually changes about now to shorter winter hours.

We haven't seen the slow season" for several years now. The locals can't believe the traffic on Pine Street with this "oil and gas boom". Faler's parking lot is always full, not just on sale-day Thursday, but every day-all day, and we'll see if they cut back to 6 pm closing time this year. We hear Spanish being spoken more and more around town, and some of the folks paying at the grocery store don't even know what the denominations of the money mean, and need to bring a friend along to translate and supervise their purchases.

There is new construction and remodeling going on just about everywhere you look in town. Local businesses are having a real tough time finding employees and have to pay much higher wages to keep them. Fortunately, we aren't seeing a significant increase in rowdiness or disruptive events due to all the new people in the county, much different from horror tales told of the booms of earlier decades.

It's all happening very fast and furious, with many people working on how to keep it under control and trying to handle all the associated impacts on social services and infrastructure needs. Below are more observations and comments on what is going on in Pinedale right now.

We send out a free, opt-in e-mail newsletter called The Pinedale Drift to those interested in receiving local news updates and breaking news. If you would like to be added to our Pinedale Drift subscriber list, send us a note with your e-mail address to pinedaledrift@pinedaleonline.com.

Pinedale Area Businesses News
Pinedale Lockers is closing the business. Steve and Sherry Wilder will no longer be processing meat once the last of the wild game for the 2005 hunting season is done.
The David Ranch has been sold. The David Ranch held an auction last weekend to liquidate ranch equipment and vehicles. No word yet on any plans to continue the long-time Sublette County guest ranch business.
Moosely Mailboxes Located in the old Sweetwater Soda building on north Franklin Avenue in Pinedale, offers mailboxes, Shipping & Receiving for UPS/FedEx/DHL, public fax/copy, and public notary.
Co-zy Décor Located across from Wind River Yoga on 229 S. Cole Street on the west end of Pinedale. They offers quality home furnishings, décor, wood stoves and more.
Rocky Mountain Bank coming to Pinedale. They will be located on the old Trailside convenience store and gas station lot on the corner of Pine Street and north Sublette Avenue. The old Trailside building has been demolished to prepare for the new bank construction. With this new business in town, Pinedale customers now have three banks and one credit union to choose from for their banking needs.
First National Bank of Pinedale sold They will transition to the new ownership and undergo a name change since the new owners are a "state" not a "national" bank. We're assured the former employees will keep their jobs and everything will transition as painlessly as possible for bank customers. Account numbers will remain the same and paperwork changes will transition as customers reorder their new checks and deposit slips over time.
Sundance Coffee Sundance Motel, located on Pine Street and south Sublette Avenue, has just opened Sundance Coffee. Billed as Pinedale's new Gourmet Coffee Bar, they have Cappuccino, Espresso and Lattes, Ciders and Teas, fresh home-made pastries and cinnamon rolls, cookies and cheesecake, and other delicious drinks and baked goods.

Sublette County School District No. 1 improvement plans
Sublette County School District No. 1 has some $38.5 million dollars in excess recapture money to figure out how to spend. Many projects are in the works, the largest of which is a new aquatic center which will use at least $12 million of that money. The new aquatic center will be a two-level building will be located in the open lot north of the current pool. Plans for the center include a competition lane pool, a recreational pool, 24-foot slide, climbing room, racquetball courts, cardiovascular workout area, suspended running track, spectator seating for competition swimming, locker rooms, changing areas and multi-purpose gym. The old outside tennis courts will be improved and moved to the north near the elementary school parking lot.

Additional Pinedale School upgrades
With the windfall of excess recapture money, Sublette County School District No. 1 has plans for many improvements of the Pinedale and Bondurant K-12 schools. Plans include a proposed 5th & 6th grade academy for the Pinedale elementary school. Recapture money was used in 2002 to construct a new elementary school playground and replace the grandstands at the school track. Future plans include demolishing the Ag building and creating a courtyard, a new football practice field, resurfacing the football field with synthetic material, expansion of the running track from six to eight lanes; new carpeting, lighting, boilers, heating and ventilation for the Elementary School; and relocating the school bus barn out by Ehman Lane. The Pinedale High School just got four new classrooms, upgrades to the wood shop, a new weight-training room, new gym bleachers and gym flooring. Recapture money was also used to upgrade the Pinedale Auditorium with new curtains, lights and other improvements. $400,000 of the recapture money was used for a 12% bonus for school staff in 2001, 2002 and 2003 school years and salary increases in 2004. Additional salary increases and bonuses of $1.5 million were budgeted school staff for 2004-2005.

Sublette County showed over $152 Million in receipts for 2004-2005
Sublette County published their receipts and disbursements for the period of July 1, 2004 to June 3, 2005. Total receipts were $152,380,256. Of that amount, the three largest amounts were $121 million collected from "other agencies", $21 million in county share of property taxes, and $6 million from sales and use tax reimbursements. Another $3 million came in from sources including delinquent taxes, tax interest, motor vehicle taxes, PILT, royalty and gas taxes, county office collections, interest and other items. The County disbursements for the same time period were $131 million. The County has over $31 million on hand in cash reserves, deposits, CDs, bank accounts, securities and time accounts.

Sublette County employees get 10% raise
The Sublette County Commissioners approved giving all county employees a 10% bonus of 10% of their annual salaries. The bonus was in response to the issue of retaining county employees due to the current county economy.

Rural Health Care Board to manage Pinedale Medical Clinic
The Rural Health Care Board (RHCB) will be taking over the management of the Pinedale Medical Clinic. Currently, the Clinic is run as a privately-owned business under the management of Dr. Judy Boyle. Under the new organization, the business management aspects of the clinic will be run under the Rural Health Care District. Dr. Boyle will remain as clinic physician, but will not be managing business operations or hiring personnel. According to the RHCB, the operation change will allow doctors to concentrate on practicing medicine and taking care of patients and not have to worry about the business aspects of running the clinic. The RHCB already manages the operation of the Big Piney/Marbleton Clinic.

Semi trucks to be banned from parking in Pinedale residential streets
The Town of Pinedale is considering an ordinance to ban semi trucks from parking in residential areas of Pinedale. The ordinance would apply to all trucks and tractor trailers with more than six wheels or weigh over 18,000 pounds. It would not apply to trucks that do not have separate trailers, such as flat bed trailers or cement trucks. The new ordinance would also limit semi truck parking in commercial areas, requiring that drivers be loading or unloading cargo and setting a 2-hour time limit. The new ordinance must have three readings before the Pinedale Town Council before becoming law. It passed the first reading unanimously.

Public gets a chance to give input on Pinedale Mill Street parking issue
The Pinedale Town Council will be considering the issue of abandoning Mill Street at its regular meeting on November 14th. The issue involves the Town turning over a one block section of Mill Street, between south Tyler and Fremont Avenue, so the county can build a parking structure between the Sublette County Courthouse, library and fire hall buildings. The Pinedale Town Council must first agree to vacate Mill Street before the county can proceed with any plans to construct on the property. The public is invited to attend the meeting and offer input to the Pinedale Town Council

New Veteran's Office coming to Pinedale
The Sweetwater County Veteran Service Office will be establishing a Veterans Service Office at Rendezvous Pointe, one day a week, to offer more convenient services for local veterans.