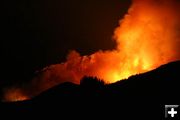 Triple Peak fire

Triple Peak glows from the orange light of a wild fire burning in South Cottonwood Creek of the Wyoming Range early Sunday morning.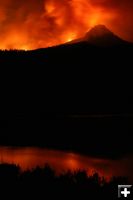 Lander Peak wild fire

Lander Peak appears to be erupting in the night as orange light eluminates smoke from a wild fire early Sunday morning.

Fire near Triple Peak in Wyoming Range
October 2, 2005
The Sublette County Sheriff's Office sent out this press release late Saturday night about the very visible wild fire burning in the Wyoming Range. "The Forest Service has advised that there is a forest fire out of control in the Triple Peak area of the Wyoming Range. It is in a unaccessable area and the Forest Service is going to wait until the morning hours to access the fire."

Flames and the orange glow from the fire could be seen from as far away as Big Piney, Daniel and Pinedale. Many people called the Sheriff's Office to report the blaze.

The fire is burning on the north side of South Cottonwood Creek, where there are no roads. As of about 4 am Sunday morning when Pinedale Online was on the scene, the fire still had not crossed over into the North Cottonwood Creek side, however winds were erratic and spot fires were occuring.

Fire behavior included torching trees, crowning, and very hot fire conditions throughout the night. The fire was moving in an easterly direction. Smoke from the blaze stayed relatively high and was not too bad (yet) in either South or North Cottonwood Creek drainages as of early Sunday morning.

Some alarmed hunters and campers left the South Cottonwood Creek area very early Sunday morning, after hearing the Forest Service was planning on waiting until morning to reassess the fire situation. One camper reported seeing smoke Saturday morning and seeing a helicopter flying around the area Saturday.

For current status on this fire, tune into Pinedale's KPIN 101.1 FM radio. We will post fire status updates on Pinedale Online as they become available.

Photos by Clint Gilchrist, Pinedale Online! Story by Dawn Ballou.