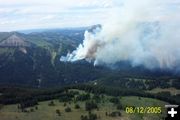 Big Fire

The Big Fire is burning in the Wyoming Range west of Daniel. It is being actively suppressed. Bridger-Teton National Forest, USFS photo.

'Big Fire' burning in Wyoming Range
Started Friday, 30 acres in size as of Sunday, 20% contained
August 15, 2005
Crews from the Bridger-Teton National Forest responded to a fire located on the Big Piney Ranger District in the Wyoming Range on Friday, August 12. The fire is located between Grizzly Creek and the south Hoback River, approximately 10 miles northwest of Merna, Wyoming, west of Daniel. The fire was caused by lightning, according to Bridger-Teton National Forest officials.

The Big Fire grew to 30 acres over the weekend, prompting the support of additional suppression crews. Currently, there are two wildland type fire engines, three 20-person hand-crews and two helicopters working on this fire. One more 20 person hand-crew is schedule to arrive today (Monday). The fire is currently estimated at 20 percent containment. Fire managers hope to have the fire fully contained later this week.

While firefighters are actively suppressing the Big Fire, forest officials would like to remind everyone, that the Bridger-Teton also has four naturally occurring fires burning within its boundaries, which are not being suppressed. The Gravel, Prater, Trapper and Slide fires are being managed to provide a natural fire process within the ecosystem, resulting in improved habitat conditions and / or reduced fire fuel conditions in their immediate areas. All of these four naturally-caused fires are small in size and burning in remote areas.