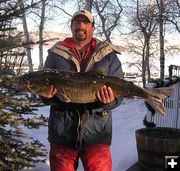 Big Fish Derby Winner

Mark Stassinos poses with his 20.2 pound Mackinaw, caught early Saturday morning. Photo courtesy Bill Boender.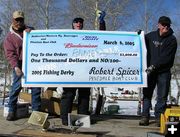 Sunday Derby Winner

Annie Sondgeroth won the Sunday Big Fish Prize with her 10.6 pound Mackinaw. Photo courtesy Bill Boender.


Big Fish Winter Derby
Over 300 entries
by Dawn Ballou
March 7, 2005

The Pinedale Boat Club held their annual Big Fish Winter Derby this past weekend, Saturday & Sunday, March 5-6. There were 341 entries in this year's derby, with fishermen coming from all over Wyoming, Utah and Idaho. This year's derby was even bigger than last year's. The annual event bases out of Lakeside Lodge on Fremont Lake.

A $1000 prize was awarded for the Biggest Fish caught each day. In addition, there was a $100 prize awarded for the Biggest Fish caught each hour. The Big Fish winners get their prize mounted for free by Robert Ray. There was also a drawing for an ice auger, donated by Trout Unlimited.

Mark Stassinos won the Big Fish prize for Saturday with a 20.2 pound Mackinaw. Sunday, Annie Sondgeroth brought in a 10.6 pound Mackinaw to take the Big Fish prize.

Bill Boender was on hand both days taking pictures of all the fish entries. Fish had to be over 24" in length to be entered. All told, 30 fish were brought in over the two days of the derby by the 341 participants.

Bill's photos, story and derby results will be printed in the Sublette Examiner newspaper on Thursday. www.subletteexaminer.com

Winning fish photos courtesy Bill Boender. Other photos by Clint Gilchrist and Dawn Ballou, Pinedale Online.




Related Links