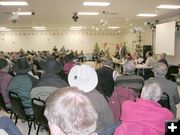 Concerned Ranchers

Concerned Sublette County ranchers met with state officials upon learning a brucellosis-infected cow as identified in the county last December.


Brucellosis case found in Jackson cattle herd
Editorial
by Dawn Ballou, Editor, Pinedale Online!
July 15, 2004

News that a new positive incidence of brucellosis has been found in cattle in a Jackson, Wyoming, herd last week only highlights even more the need to get Wyoming's wild elk and bison populations brucellosis-free if the state's cattle are to remain brucellosis-free. Only one cow tested positive up in Jackson, but the bottom line is this means it will be another year before Wyoming can again be declared a brucellosis-free state.

Wyoming has been classified as brucellosis-free for 18 years. The first incident in the state came last December when the disease was found in cattle on a Sublette County Ranch. The loss of brusellosis free status has a devastating economic impact on the cattle industry for the entire state.

Wyoming can regain its brucellosis-free status by complying with the provisions of Class A status for one year if no new infection is found within that time. With the new infection, the one-year provision restarts.

Brucellosis can cause cows to abort their first calves and can sometimes cause undulant fever in humans who work with infected animals or consume contaminated animal products such as unpasteurized milk. For decades, Wyoming ranchers have closely managed their cattle herds and implemented strict vaccination programs. It has taken years of dedication, hard work and careful management to gain Wyoming herds brucellosis-free status. This management regime has virtually eliminated once-rampant brucellosis to the point where one infected livestock animal is now big news in the media. Elk herds in the Jackson area are known to have 50-60% of the population infected with brucellosis. Infected elk range public land, as well as cattle rancher's private land, exposing nearby cattle herds to infected wildlife. While it cannot be absolutely proven elk are the source of the Jackson or Sublette County incidents, there is little doubt that when the cattle are known to be brucellosis-free, while one out of every two elk are infected with brucellosis, elk are the likely source infecting cattle.

Frustrated and angry Sublette County ranchers argue they have faithfully followed all state procedures and vaccinations to keep their herds brucellosis-free. Ranchers have little choice when brucellosis is found in their herd except to "depopulate" the herd (that a nice way of saying destroy the herd and the rancher losing generations of breeding work). Wyoming wildlife managers are not required to closely test or "depopulate" infected elk and bison herds. Infected wildlife freely range across public and private land and spread the disease each time they give birth or abort a fetus.

The new rules about when, which ones, and how to bleed cattle to test for brucellosis before shipping or selling are not simple or easy to understand. Compliance is time-consuming, adds cost, and creates more stress for animals as well as producers. The added regulations and compliance requirements strain an industry that already has a very narrow profit margin. Some ranching families have expressed the frustration that after all the care to eradicate the disease, and all the years of working with the Wyoming Game & Fish to accommodate elk as much as possible, it is precisely the ranchers who have been "elk-friendly" who are paying the price.

Placing the blame for cattle brucellosis infections on the free-ranging Wyoming elk and bison herds, and not ranchers, seems to be a hot-potato topic that the Wyoming Game & Fish Department and the state have been carefully avoiding. The state has been slow to embrace the strategy of implementing a 100%-effective vaccination program for Wyoming's wildlife, so as to declare Wyoming wildlife "brucellosis-free" to keep the cattle industry "brucellosis-free".

It is easy to see why a program to vaccinate all the elk is a hard sell to the public. Hunting in Wyoming is a huge economic industry for the state and a strict vaccination program makes wildlife seem domestic, not wild. In addition, vaccines that work in cattle don't effectively work in elk and bison. More effective vaccines are needed for wildlife, and all animals need to be treated. The reality is, elk and bison herds are already heavily managed, whether we want to admit it or not. Their population levels are dictated by our hunting management practices, and few like the idea of killing off half the elk population to eradicate the brucellosis problem. The 22 elk feedgrounds in the state offer a perfect opportunity to find elk together in large numbers to administer vaccinations and implement a brucellosis eradication program so that elk, and cattle ranching, can both be thriving assets to the state of Wyoming.

There are no easy answers to the situation, and many factions are widely divided on how to resolve the issue. Finding an effective vaccine for infected wildlife would help tremendously. Here in Sublette County, it seems pretty clear a big part of the answer is, "get the elk and bison all vaccinated and 100% free of brucellosis and the cattle will stay brucellosis-free."