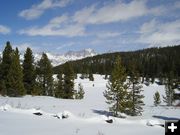 Elkhart Park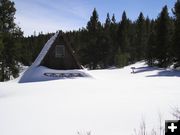 Elkhart Park Visitors Hut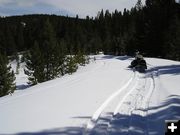 Skyline Drive at Elkhart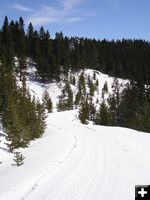 Skyline Drive

Snowbird Snow Report
Spring will be here soon!
by Dawn Svalberg, Photos by Alan Svalberg
3/22/04

This report just in today especially for you Bondurant Snowbirds wondering what the conditions currently are and how soon before you can get back into your places this year. This is from Bondurant resident, Marti Seipp: "When I drive down Jack Creek road, I see dust behind me and a foot and a half of snow on both sides. It's going fast, tho' and we're enjoying these nice days. If you don't plow, you probably can't drive in yet. Maybe a little earlier than usual this year. We can hope anyway." You can expect to hear winter tales about elk, moose, sheep and wolves from your neighbors when you get back. Hwy 191 in the Hoback Canyon is clear, but the spring avalanches started a couple of weeks ago.

Many of the south-facing mountain side-slopes are now cleared of snow allowing wildlife to get to real grass again. In lower spots near water the grass is actually starting to green up a bit where it has melted around tree bases. The 50-55 degree weather is causing the snow to melt fast. Just today, lawns in Pinedale lost about half the snow and more big patches of grass opened up. Other spots in the shade still have a foot and a half of snow. Oh, and the robins are back, but we still haven't heard a sandhill crane yet.

We got a report this morning that the elk have left the feedground near Green River Lakes and made a beeline over to Pinyon Ridge to eat the grass on the open slopes there. There still is plenty of snow for snowmobiling along the Continental Divide Trail, and Green River Lakes is still frozen over. The road is clear to the parking area at the Forest boundary, but there still is good snow from that point on in the Upper Green.

With the great weather, the Forest Service is reminding folks to stay off the winter ranges so wildlife aren't disturbed. Also, people are asked to stay off the soft back roads with vehicles and wait until they firm up before trying to drive on them. Damage caused now by people tearing up the roads stays for a long time during the summer and makes the road harder for everyone else to negotiate when they dry with deep ruts dug in the roadbed from people trying to get on them too early.

Spring fever has really hit and everyone seems more than ready to get out and do more. Lots of people could been seen out over the weekend riding bikes up Skyline Drive, taking family walks down the roads, and starting to do some yard work. You Snowbirds who are keeping track of the weather, it won't be too much longer before the roads into your summer homes will open up and you'll be able to come back and join us again. We'll be looking forward to seeing you again and hearing all your great stories from over the winter!