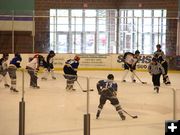 Cody WAHL Championship

Jeff Ellis, Preston Schwab, Conor Raney, and Forrest Michnevich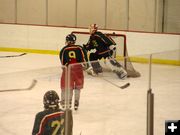 2004 Midgets

Goalie Steven Svalberg, Cole Sulenta and Jim Easton.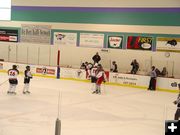 Changing Lines

Pinedale Midgets take 4th in Cody WAHL Tourney
State Midget Hockey Championship
by Coach Craig Sheppard
3/1/04

The Pinedale Glacier high school age hockey team took 4th place in the state WAHL (Wyoming Amateur Hockey League State Championships) hockey tournament last weekend, February 28-29, in Cody. The Pinedale Glacier high school age hockey team traveled to Cody to compete against winning high school hockey teams from across the state. Teams qualifying for state competition were (in ranking order) Casper, Gillette, Douglas, Sheridan, Pinedale and Riverton. The Pinedale Midgets entered the competition ranked 5th in the state after this winterís league action. Casper eventually took the win for the #1 place in this year's state tournament.

Pinedale started off their competition with the always tough 3rd ranked Douglas Ice Cats. Pinedale took the game to them early on with two first period goals by Conor Raney assisted by Cole Sulenta and Jacob Roberts. Douglas evened up the score during the second period, but Cole Sulenta of Pinedale came back with an unassisted goal at the beginning of the third period to go ahead again. Douglas kept fighting back and scored two more goals Ė one in the middle of the period and one with only 1 minute to go in the game to go ahead. The Pinedale players didnít give up and Conor Raney scored his third goal (hat trick) of the game with only .5 seconds left to go in the game to secure a tie. Steven Svalberg in goal for Pinedale faced 29 shots for the tie.

That afternoon Pinedale then had to face the number 1 ranked, and eventual State Champion, Casper. Once again they scored the first goal on an unassisted goal by Cole Sulenta. Then Casper went to town, scoring 4 unanswered goals to go up on Pinedale 4-1 after the first period. It looked like this was going to be a blowout. But then Pinedale scored 3 unanswered goals themselves to tie the game up. The first goal was a shorthanded one by Conor Raney. assisted by Jeff Ellis. The next was another Conor Raney goal, assisted by John Stach. The final goal was scored by Cole Sulenta, assisted by Jeff Ellis. The Casper team switched goalies and then both teams and goalies locked into playing really good defense until Casper went ahead with a goal with only 4 minutes left to go in the game. It looked like Pinedale could not pull another goal out of their hat when all of a sudden Jacob Roberts took a pass from Conor Raney from behind the net and sunk the puck deep into the goal. With only a minute left in the game Casper took a timeout but still could not figure out how to put another goal past Steven Svalberg and the game ended up in a tie. Steven had to make 35 saves in that game.

Due to the fact that Pinedale had tied both Douglas and Casper in pool play, the last game of the night between Casper and Douglas would determine where everyone would play in the championship round held on Sunday. Pinedale was guaranteed the 3rd place game while the loser would play for 5th and the winner would play for 1st. Casper beat Douglas 3 to 1 to advance to the championship game.

Sunday morning Douglas beat Riverton for fifth place in a thrilling come-from-behind overtime game. Pinedale versus Sheridan was the next game scheduled. The game was a defensive battle through most of the first period with Sheridan out shooting Pinedale 9 to 5, but both teams managed to put only one goal by the opposing goalie. Pinedale scored first on a goal by Jacob Roberts, assisted by Cole Sulenta, and then former Pinedale hockey player, Drew Konetzki, scored a goal for Sheridan to tie up the game. The second period saw no goals scored but Pinedale was out shot 18 to 5 during the middle period. The final period saw Pinedale scoring first on a goal by Nate Olsen, assisted by Cole Sulenta. Pinedale then had two goals called off, one on a nice deflection by Nate Olsen that was ruled touched by a high stick, and then another sure goal was called off due to an off sides violation. It looked like Pinedale was going to take third in the state but with only 3 and a half minutes to go in the game Sheridan scored to tie it up and then scored once more with only 25 seconds to go take third place. Senior Steven Svalberg in goal for Pinedale kept the Glaciers in the game by making 45 saves on 48 shots.

The Pinedale players played with a lot of heart throughout the entire tournament. They played with only nine players and a goalie compared to the other teams 18 and two goalies. The end of the last game a time out was taken by Coach Sheppard to help them try get a little more energy back, but they were just too tired to mount another comeback. Pinedale people should be proud of the way they represented Pinedale both on and off the ice this weekend, as well as the whole year.

Casper won the WAHL JV division state championship with a 4- 0 shutout of Gillette. Pinedale was the only team to score more than 1 goal against Casper during the entire weekend.

Playing for Pinedale were seniors: Jeff Ellis, Cole Sulenta, Jacob Roberts and Steven Svalberg; sophomores: Forrest Michnevich and Jim Easton; freshman Preston Schwab; and 8th graders: Conor Raney, Nate Olsen and John Stach. The Pinedale team was coached by Craig Sheppard. For more information, game photos, and articles about the Pinedale Midgets and Pinedale Hockey Association, see the Pinedale Hockey Association web site.