---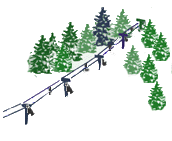 Thursday, December 30, 1999 - White Pine is OPEN!
Just came back from White Pine Ski Area and the lifts are running! With the beautiful new lodge still under construction in the background, skiers and snowboarders lined up to board the lifts to be the first to head to the top of the mountain. Under gorgeous blue skies, with one of the most scenic views around of 11-mile long Fremont Lake, excitement was running high. The slopes are "skiable", but we definitely could use a couple feet of more snow up there. We also got a sneak peak inside the rustic log day lodge! Read more about that, and see the color graphic showing the ski runs, on our Skiing page!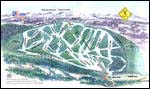 White Pine Trail Map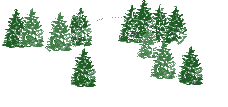 While the snowmobilers and folks up at White Pine Ski Area are praying for more snow, others are enjoying the beautiful sunny blue skies and unseasonably warm weather. Can't remember a winter when we could see so much grass showing in the yard, and the locals running around without coats during the day, at the end of December. Daytime temperatures have been in the 30s and 40s with night time lows still above 0. Heck, we're used to shivering through -20 temperatures usually this time of year!
Y2K is just around the corner! Will everyone's computers up and die when they go to turn them on Saturday morning? Or will it pass as just a minor ripple in our daily lives that we will look back on and just laugh at all the doomsayers and those who proclaimed the end of the world? Personally, we expect the computers to boot and not a single plane to drop out of the sky. Whatever happens, from all of us here in Pinedale, to all of you, Happy New Year and Happy New Millennium!
What's going on in Pinedale to celebrate the new millennium? The Pinedale Volunteer Fire Department will be shooting off Millennium Fire Works on New Year's Eve. There are various parties, food & music goings-on around town for those with enough energy and enthusiasm to stay up and ring in the new Millennium. Stockman's is offering Filet of Tenderloin with Sea Scallops, Shrimp Scampi, Prime Rib, Steamed Lobster, and King Crab Stuffed Halibut among other delicious meals you can enjoy while listening to live music and sipping special champagne. Moose Creek Bouteek (former Moose Creek Trading Company) is offering 2 for 1 margaritas with specialties of Snow or King Crab, Shrimp, Mussels and Escargot. The first 20 folks at the Green River Guest Ranch/The Place will get Happy Hour prices all night while listening to great music and enjoying fine dining. This is definitely your chance to get some mighty fine eats in Pinedale! The local Sheriff's office is doing their part by offering free rides home for those who over endulge on New Year's Eve. They call it their "Stay Out of Jail Free" special.
If you want to get out and be active on Saturday, New Year's Day, the Great Outdoor Shop is renting snowboards, downhill skis, x-country skis and snowshoes. Grab 'em and head up to White Pine! For those of you who could care less about ringing in the new century, and who plan to sleep through the changing of the year, well, nevermind...
Snowmobiling in Pinedale
Snowmobiling Business Links
Wyoming State Snowmobile Trail Conditions
The Continental Divide Snowmobile Trail is still closed from Irish Canyon to The Place due to loack of snow. Above The Place the Trail is groomed with 4"-24" base and 8" of new snow. The weatherman says next week looks great for chances of snow all week!
---
What's happening On the Ranch?
Read about Wyoming's version of "timeshare".
Wyoming Cowgirl - On the Ranch
http://www.wyomingcowgirl.com
Update as of Thursday, December 23, 1999 - Ice Hockey has started!
Ice hockey has finally started in Pinedale, after unseasonably warm weather delayed getting ice down on the outdoor rink. The Midget (high school age) team traveled to Jackson last Saturday and Sunday to participate in a Wyoming Amateur Hockey League (WAHL) Round Robin with Casper, Riverton and Jackson. Pinedale did really well considering they've only had two practices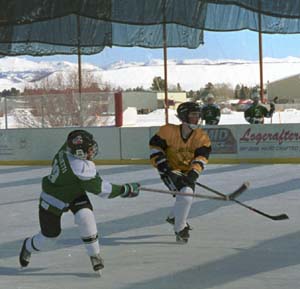 before their first game, while the indoor rink teams (Jackson and Casper) had two months to prepare. Pinedale won 2 of the three games: Pinedale vs. Casper 5-1, Pinedale vs.Riverton 6-1, Pinedale vs. Jackson 2-4. The Pinedale Hockey Association provides an opportunity for recreational level hockey competition for kids ages 5 through 17. We have teams for Mites, Squirts, PeeWees, Bantams and Midgets. Men's & Women's teams also exist. Pinedale Recreational Hockey offers figure skating as well. Hockey games, practice schedules and news are online at the Pinedale hockey website, www.sublette.com/hockey.
The hockey rink is located on the west end of Pinedale near the golf course. Turn south on Country Club Lane between Wind River Pizza and Country Lane Liquors, go one block and it's on the left. Port-a-pottys on site. This is an outside rink, so parents and spectators: Dress warm! The rink has public skating hours throughout the week. Visit the Hockey web site for rink schedule for hockey practices and public skating hours. Rink Hours
The Pinedale Wrangler Basketball team hosted the Cokeville Panthers on Friday coming to within 8 seconds of claiming a win in overtime, 62-63. The Pinedale Lady Wrangler Volleyball team played their last game of the year Friday against the Cokeville Lady Panthers in a non-conference game at home, losing 40-51.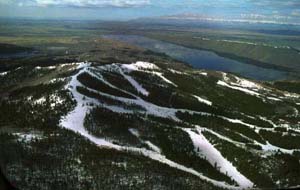 White Pine Ski Area early spring 1999
White Pine Ski Area Complete Update
White Pine Ski Area is hoping to open mid-day on Tuesday, December 28th if all goes well with today's load test for the lifts and a bit more snow falls. Plans currently are to have the ski area open full time through January 2nd, then open only on weekends through January to allow for construction on the new day lodge. Full ski patrol service will be available. Lodging, meals and ski rental services are based out of Pinedale for this season. We'll keep posting ski area updates here on Pinedale Online as they become available.
Update as of Tuesday, December 21, 1999
White Pine
Lots of you have e-mailed and asked if White Pine will be open over Christmas. We just got a message this morning saying they anticipate opening mid-day on Tuesday, December 28th and operating full time through the 2nd of January.
Lift tickets will be:
Full Day Pass $22
Half Day Morning $15, 9 am - 12:30 pm
Half Day Afternoon $15, 12:30 pm - 4 pm
During January, White Pine Ski Area will be open only on weekends as they continue construction on the new day lodge. Until the new day lodge is completed, their food and ski rental services won't be available at White Pine. They are making arrangements for temporary outdoor catering services so that food and beverages will be available until the day lodge is operational. They are also working on setting up their ski rental shop temporarily in Pinedale, so watch for announcements on that. Lodging and apres ski dining will be based out of Pinedale this first season.
Stuart Thompson says, "We have been working a long time to get here, and we want everybody to come up to White Pine and have fun. Please be understanding that construction is continuing and bear with us as we continue to build White Pine Ski Area."
We'll post updates as we receive them here and on our skiing page. White Pine's web site, www.whitepineski, is still under construction, promising "Coming soon".
Snow!
We've been getting snow most every day now. Is it enough for White Pine to open by Christmas? Keep your fingers crossed!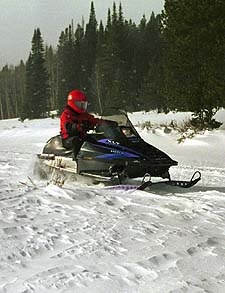 Only a week left before Christmas, and looks like ours will be white afterall. The snowmobilers are loving this and lots of rigs hauling trailers have been headed out of town every day. The Continental Divide Snowmobile Trail is still closed between Irish Canyon and The Place. The further up the Green River Valley you go, the more snow you'll find. Right now there's 0" snow base at Irish Canyon, and 2"-12" up by the Place, with 2"-5" new snow. The Trail in the Upper Green is open, but ungroomed with 6"-10" base and 4"-5" new snow. We'll post information about weather and snowpack weekly on our Pinedale Online snowmobile page.
Where can you rent snowmachines and equipment in Pinedale? See our snowmobiling business links page and the Pinedale Area Chamber of Commerce site.
See the State of Wyoming official snowmobile site for Continental Divide Trail condition updates. http://commerce.state.wy.us/
What's happening On the Ranch? Cris has her own web site and new name now! You'll find her On the Ranch stories and journal entries at Wyoming Cowgirl, www.wyomingcowgirl.com! We'll still be linking to her from our front page on Pinedale Online, but be sure to update your bookmarks for her new site address!
Wyoming Cowgirl - On the Ranch
http://www.wyomingcowgirl.com
White Pine hopeful to be open before Christmas...If we get snow!
Workers at White Pine downhill ski area are completing final preparations to have the ski area open before Christmas, if Mother Nature cooperates and brings snow. While the lifts and runs will be operational, the lodge won't be open until well into the new year. The lodge will house the cafeteria & bar, ticket sales office, ski equipment & rental shop, ski patrol office, restrooms, and lockers. White Pine will have 25 trails: 6 beginner green runs, 9 blue runs, and 10 black runs. Hey, we say that's ok if the facilities are a little rustic this first season (come dressed and use porta-pottys). We're just happy White Pine is almost ready and we get to ski there this winter! Think SNOW!! (We got a couple of inches last night.)
The Museum of the Mountain Man's annual Wreath Auction fundraiser was a huge success raising more than $5,000 for the Museum, and the Sweet Harmony concert was fantastic once again (admission was just a canned good donation for the Food Basket)!
Still more holiday activities on tap for the upcoming week! A Christmas Craft Fair will be held Friday & Saturday Dec. 10th & 11th at the Old Pinedale Library (sponsored by the Pinedale Chamber of Commerce). Santa will be available for photos from 10 am - noon and 2 pm - 4 pm. On Saturday, Dec. 11th the Children's Discovery Center will have their Open House at their new building, 454 E Hennick behind the Sublette Center. Kids can get pictures with Santa from noon - 2 pm. The Community Choir presents the Festival of Lessons and Carols on Sunday, Dec. 12th at 3 pm at Our Lady of Peace Catholic Church in Pinedale. Admission is just a donation for the Food Basket.
The Pinedale High School/Middle School Band & Choir concert will be Monday, Dec. 13th at 7 pm at the Pinedale Auditorium. Big Piney Schools Holiday Choral Concert will be Dec. 14th at 7 pm in the Fine Arts Auditorium and the Band Concert will be Dec. 15th at 7 pm.
We think differently out here in Wyoming when it comes to measuring distance. Ask someone in Pinedale how far it is to Jackson Hole, and they'll probably tell you a little over an hour. How far to Salt Lake City? About 4 hours. We don't measure distance by miles, but rather by how long it takes to get there. It's an attitude that comes with our slower paced lifestyle and so much distance between you and the place you're headed to. Somehow the exact number of miles just doesn't matter so much.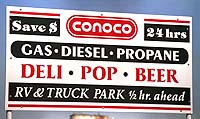 Is that at 15, 55 or 90 miles an hour?
Update as of Friday, December 3, 1999
The Rural Fireman's Association Convention is currently going on in Pinedale with around 150 folks in attendance from across the state. The 3-day meeting is co-sponsored by the Wyoming State Forestry Division and will be focusing on "the broad range responsibilities of rural firefighters". Included will be a special presentation on dealing with high pressure gas wells and lines for rural firefighters.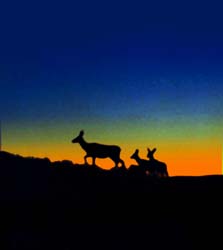 We got some snow...sort of. It has tried to snow the past couple of days, but has only managed to deposit a light dusting on the ground here in town. We're told there is some 5-8" in the Upper Green River area and it is possible to do some snowmobiling there if you stay on the roads (which is more than the rest of the Continental Divide Snowmobile Trail has in the rest of the state except for the Togwotee area). Weatherman says next best chance for snow in the area is early next week.
Pinedale is getting spruced up for the holiday season! The Christmas tree on the Sledding Hill is all lit up, and many homes and businesses are putting up beautiful Christmas lighting displays in the holiday spirit. This weekend starts a jam-packed assortment of holiday activities for the next couple of weeks. The Museum of the Mountain Man's annual Wreath Auction takes place tonight at 6 pm at the Old Pinedale Library.
Saturday: Kids can visit Santa at the Old Pinedale Library, and the family can take advantage of late shopping hours from many Pinedale businesses. The Christmas Parade starts at 5 pm and will go the opposite direction from previous parades, ending up at the new Gazebo in the American Legion Park. Mayor Rose Skinner will dedicate the Gazebo after the parade and winners will be announced for the parade float, essay contest, and the Chamber of Commerce $500 Shopping Spree will be announced. The County Courthouse Tree Lighting will be at 6:30 pm, and Sweet Harmony concert will be at the Pinedale Auditorium at 7:30 pm.
Photo credits: "Town Deer", "Pinedale Hockey" "White Pine fromthe Air", "Snowmobiler" "1/2 Hour Ahead" and "Deer at Sunset" by Pinedale Online! Animations: "Ski Lift" and "Downhill Skier" by Custom Graphics/Pinedale Online. Copyright 2000. All rights reserved. May not be reproduced without permission.