---
Friday, September 24th, Still Fall
The snow the weatherman predicted would come last weekend never materialized and we're still enjoying our lovely fall weather. Daytime temperatures have been in the 60s & 70s.
Pinedale Wranglers played hard, but lost to Rocky Mountain 21-8 last Friday for their Homecoming game. Read The Sublette County Journal article for details and pictures.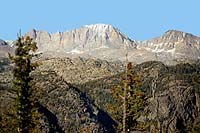 Hunters are getting out bagging antelope and sage chickens and keeping an eye on the high country hoping for that fresh snow to help them track the big elk. The Forest Service says that the water has been turned off at most of the campgrounds now and there is no longer a fee for staying in them. Hunting season is in full swing and outdoor recreationists are also encouoraged to wear hunters orange for safety. The Forest Service is conducting prescribed burns up on Fremont Ridge this week, so don't be surprised to see smoke coming from up there.
Saturday, September 18th, Life "On the Ranch"
Read about life on a real Wyoming ranch as "Cowgirl" Cris writes about the daily happenings on the Pearson Angus Ranch near Daniel, Wyoming. Her most recent stories include an encounter with a skunk, (the skunk won), and her roan colt, Taz, who's unpredictable temperment has earned him the nickname, "Joe Black". Read the latest update on "Sunny", now a sleek 5-month old colt, and his run-in with a barb-wire fence. Cris is truly a "real" Wyoming cowgirl, complete with black cowboy hat, bluejeans, western jewelry, and workgloves in her pocket. She does everything that has to be done on a working ranch and has a wonderful laid back sense of humor. We're proud to add her "Diary of a Cowgirl" stories to Pinedale Online and hope you will follow the daily happenings along with us.
The Wyoming Peace Officers Association Convention is over. We have to say what a wonderful group of people they have been, and how nice it has been to have them here in Pinedale this past week!
Snowmobiling?! We know some of you can hardly wait for the snow to get here so you can get out snowmachining again! Last weekend's Grass Drags were a whole lot of fun, but we're all itchin' to get on Real Snow! When will there be enough snow to snowmachine on? We can get snow any time now, but typically it will be late November or early December before there is enough accumulation for good snowmachining. We'll be posting weather reports and trail conditions weekly on our snowmobiling page, so check out the current conditions there! Snowmobiling.
The Pinedale Fine Arts Council presents Pan Jumbies on Thursday, September 23rd at 7:30 pm in the Pinedale Auditorium. This is Caribbean world beat music with steel pan, vibrant calypso, and soca funk of bass & percussion. Rhythm to MOVE YUH! Tickets are available here at Office Outlet, the Cowboy Shop, Moose Creek Trading Company, Moosely Books, and the Big Piney Library. Adults $10, Students $7, $1 additional at the door. We want to thank the PFAC, and all their volunteers, for the excellent cultural performances they bring to Pinedale each year.
Skiing! Latest word is that White Pine Ski Resort will be open by CHRISTMAS! The new lift is nearly completed and tickets will cost $22. Read The Sublette County Journal article for complete details!
Saturday, September 11th, Wyoming Peace Officers Convention
Welcome Wyoming Peace Officers Association!
Convention in Pinedale September 13th - 17th
Signs of Fall... leaves are turning color and the elk are bugling
September always brings cooler temperatures and we watch the trees start to change color more and more each day. That's good news for those in the high country because it means the bugs are mostly gone too. The afternoon thunderstorms are bringing dustings of snow to the high country, which so far has been melting off during the day. We've had reports of 3"-10" of new snow up on the Continental Divide, now melted. Soon it will stick however, as winter comes closer.
Some think this is the best time of year to be up in the wilderness! Days are crisp and clear. There are fewer people on the trails, the aspen are turning golden yellow, and the elk can be heard bugling in the distance...
Hunting season has started in many areas now. This weekend is opening weekend for Antelope, Ruffled Grouse and Blue Grouse. The local Wyoming Game & Fish Department told us they still have some leftover cow elk and doe/fawn antelope licenses available on a first-come basis until they sell out. Antelope season closes October 31st and elk season runs clear into December for some areas. Hunters are required to wear hunter's orange clothing. That might not be a bad idea for non-hunters when in the back country this time of year either. Here are some other reminders from the Wyoming Game & Fish Department:
Each person licensed to hunt or fish in Wyoming must possess a signed Conservation Stamp when afield. These are available from any local sporting good store that sells licenses, or directly from any Game & Fish office.
Hunters born on or after January 1, 1996 must possess their Hunter Safety Certificate when afield.
Know where you are and ask for permission to hunt on private property. Wyoming law does not require landowners to post their property. It is the hunter's responsibility to know if the land is public or private.
Hunters and fishermen are reminded that it is mandatory to stop at any Game & Fish Check Stations on route to or from hunting or fishing areas, whether they have harvested anything or not.
Non-residents are required to have licensed guides when hunting for big or trophy game animals on any designated wilderness area.
Visit the Wyoming Game & Fish web site for more specific information and details. http://gf.state.wy.us
Saturday, September 4th Labor Day Weekend
The last big 3-day camping weekend of the summer is here! The weather is on the rainy and cool side, but that won't dampen the enthusiasm of many folks out enjoying the great outdoors. The Forest Service reminds visitors to layer clothes and take precautions to prevent hypothermia. The rain storms are bringing fresh snow to the high country and trails are wet. Temperatures are dropping below freezing every night up high now. Campground facilities will be closed down sometime this month by the Forest Service, exactly when depends on weather conditions. Most will be closed up by October 1st. This means that the water will be turned off, restrooms closed, and campground hosts will be gone, but visitors can stay in the campgrounds at no charge.
Hunting season has opened in some areas now, so wearing hunter's orange when in the back country might be a consideration.
Thursday, August 26th USA Supreme Adventure Race Results
Slipping in just before midnight on Friday, August 20th, team Houston mountain biked their way to victory to capture the overall championship title of Four Winds '99 - The USA Supreme Adventure Race/Wyoming. In addition, they won the premiere four-person, co-ed category.
Captained by Keith Winzenreid (Houston, TX) and composed of Troy Burt (Cincinnati, OH), Emily Johnston (Driggs, ID) and Bob Talamini (Houston, TX), team Houston completed the approximately 340-miles course in the lead. Ancorage, Alaska-based team Burnin' Daylight-Jeff Bannish, Pat Munz-placed 2nd overall, and won the two-person mixed category. Tying for 3rd place honors were teams Orion and Pinnacle. As a four-person, same-gender team, California-based Orion - Craig Brinton (San Francisco), Joel Geran (Pt. Magu), Marc Igel (Bolinas), Michael Johnson (Larkspur) - also won their class. And Pinnacle-Elizabeth Carabarin (San Jose, CA), Michael Reinhart (Hanford, CA), Mike Snow (Kirkland, WA), Janet Stadshaug (Kirkland, WA) - placed 2nd behind Houston in the four-person, mixed category.
The USA Supreme Adventure Race ran from August 14th - 21st. The longest-running expedition-level race in North America, the multisport Four Winds competition is designed to provide athletes world-wide the opportunity to experience the ultimate in physical, mental and personal challenges and growth. Based out of Lakeside Lodge on Fremont Lake near Pinedale, the race ran approximately 340 miles. Teams of four or two people faced a challenging and diverse secret course that included kayaking 24 miles on Fremont Lake, mountain biking 70 miles from Lakeside Lodge through the foothills of the Wind River Range to near the headwaters of the Green River, kayaking on the Green River for 75 miles through the Green River Valley to just south of Big Piney, and trekking/rappelling and horseback riding through the Wyoming Range. The Four Winds '99 USA Supreme Adventure Race was sponsored by Four Winds Adventure Company out of Sedona, Arizona.
(Related article from The Sublette County Journal: Team Houston Wins Adventure Race)
Friday, August 20th USA Supreme Adventure Race is Underway!
Standings as of Friday pm (20th): Team Knuckleheads has posted the fasted time and have finished, but will be unranked as they chose not to rappel, a required event. Team Houston expected within the hour (around midnight or early Saturday am). Burnin' Daylight 2-man team is close behind team Houston. The other two teams will arrive early Saturday morning. Team Bad Dawgs withdrew due to injury.
The USA Supreme Adventure Race is underway! The race runs from August 14th - 21st and will span 325 miles basing out of Lakeside Lodge on Fremont Lake near Pinedale. Teams of four or two people will mountain bike, hike, climb, rappel, white and flat water paddle, horseback ride, and run over a secret course during the race. In its third year, the Four Winds '99 USA Supreme Adventure Race is sponsored by Four Winds Adventure Company out of Sedona, Arizona.
(Related article from The Sublette County Journal: Adventure Race Underway)
Grizzly bear kills of cattle are still occuring on Park Creek in the upper Gros Ventre area near the Union Pass Road. The Wyoming Game & Fish Department in Pinedale reports that one cow and 5-6 calves have been killed in grizzly bear attacks in this area. To date, no human-bear encounters of either grizzly or black bear have been reported.
(Related article from The Sublette County Journal: Another Grizzly Eating Cattle)
Forest Service trail reports: Main Scab Trail is cleared up to Cross Lake. Several large trees are still down, but it is still passable to livestock. Scab Trail is still getting heavy use. The Highline Trail from Cross Lake to Boulder is open with only a couple of large trees remaining. Moderate use now on the Highline Trail. Cross, Raid, Dream & Bob's Lake are all very crowded with people. Mid-elevation flowers are going to seed and high aplpine flowers are in peak bloom. Mosquitos are almost gone - and horse flies are moderately bad.
Saturday, August 7, 1999 Beware of Altitude Sickness
An 8-year old was helicoptered out of Indian Basin in the Bridger Wilderness 2 days ago with altitude sickness.* If you're not acclimated to high elevations, be aware that flu-like symptoms can mean altitude sickness and you need to get down to lower elevations immediately. Symptoms will go away rapidly once the affected person is brought down from the high elevation.
The Pinedale Ranger District reports that the Winds are very crowded now with hikers and not the secluded hiking experience in the wilderness some people are expecting. If you are wanting to get away from hikers, you should plan your trip for some of the less well-travelled areas. Island Lake, Seneca Lake, Titcomb Basin and Indian Basin are being heavily visited right now and hikers are reminded to spread out and camp away from lakes, trails and other campers. Also, no campfires are permitted at Seneca or above.
Mosquitos are the worst right now higher up, elevations 10,500' and above, and fewer in number down lower. Stream crossings are lower now, and blooming wildflowers are "stunning" to quote a Forest Service report. Higher trails are still pretty wet due to melting snow. Campers should be extremely careful with fires, even in campgrounds. Fire danger is HIGH.
*Editor's comment: We received unconfirmed reports later that this child's condition may have been due to an ear infection rather than altitude sickness.
Tuesday, August 2, 1999 - Grizzly Bears and Wolves
Yes, there are bears and wolves in the woods around here and you should be aware of it if you plan on recreating in the Great Outdoors. Be sure to take proper safety precautions regarding food storage and handling. No human-bear encounters have been reported, but 8 livestock calves have been killed by grizzly bears in the upper Green River area and a 550-lb male grizzly was captured and euthanized by the Wyoming Game & Fish Department in early July. Another grizzly bear is believed to be in the Fish Creek area.
Three hikers from Colorado who spent 18 days hiking the Highline Trail last month reported in to the Forest Service office on Friday that they had seen 2 wolves by the Twin Buttes area 2 days into their hike from Big Sandy. Jeff, Amy & Dan made a 75 mile trek and said they "had a great time". They reported that the mosquitos are very thick and trails are wet with lots of runoff. Lots of trails have portions that are under water and stream crossings are still high along the Highline Trail.
Lance from California returned to hometown Pinedale last week to see his father and take in some mountaineering he's wanted to do for years. Last week he climbed the Grand Teton up in Jackson. Then he spent 3 days in the Wind River Mountains ascending Gannett Peak and then Fremont Peak. He said the Gannett Peak climb was "slower and steeper" than he expected, with about 80% being ice travel using crampons and ice ax above Titcomb Lake. Fremont Peak was more of a "hike/scramble". He said the view was "awesome" with clear skies and 65 degree temperature on top of Gannett. Lance made the Gannett Peak climb, alone, in 12 hours round trip from Titcomb Lakes. The Forest Service advises planning this as a 20-hour round-trip climb. (see our Gannett Peak page)
The Pinedale Ranger District reports that the log footbridge over Clear Creek to Slide Lake has been repaired and the following trails are now cleared: Summit Lake, Twin Lakes, Granite Lake, Three Forks Park and Porcupine Pass.
15-year old Alan came home pretty excited about catching a 20" Brown trout this week on the New Fork. "I can't believe that big fish came out of that little creek!"
And here at Pinedale Online we've been hiking, 4-wheeling and taking day drives exploring some new territory. Hay bales dot the countryside as ranchers move full swing into haying season. Wildflowers are blooming everywhere! Columbine, geraniums, Indian paintbrush, and many more are in colorful bloom. The best surprise was discovering Saturday that the wild strawberries are ripe! They aren't very big, but they're sweet and delicious!
As always, if you're venturing out into the wilderness, be sure to contact the local Forest Service office for current conditions and advisories before heading out (307-367-4326 Pinedale) and be "Bear Aware". Don't forget the insect repellant, sunscreen and hat. (see our Bridger Wilderness page for more information)