Visitor's Comments
What are visitors saying about Pinedale, Wyoming?

Western Wyoming is a beautiful and varied place. From the breathtaking beauty of our Wind River Mountains, to the rolling sagebrush hills dotted with herds of antelope, to steep U-shaped mountain valleys and boulder strewn meadows. Those who visit here remember the wide open spaces, hearing the sound of the streams near their campsites in the early morning quiet, night skies filled with a million stars, and wonderful experiences in the great outdoors. Thanks to everyone who has written and shared photos! Below are some of the comments we received from visitors in the early years of Pinedale Online.

More Comments: January 18, 2005 Article
---
"We visit Wyoming every year on Spring Break. Pinedale and the surrounding area is our favorite destination. We stayed up at Cow Cabins for a few days this year and were in heaven. The people of Pinedale are fantastic and the reason my children don't go to Disneyworld!" -Texas
---
"We have gone to Green River Lakes for several years now. And just love the area. The town and the people are the best... We check your web site all the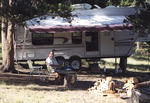 time to see how things are doing on Pinedale... We are just drawn to the Pinedale area... " Ron & Terry Bunge, Iowa
---
"This year will be the 8th summer I've visited Lozier's Box R Ranch and Pinedale. I love it, everybody is so friendly and the town is so clean. The best break from East Coast stress and crowds that I can imagine!" -Virginia
---
"My wildest imagination was far exceeded by what I saw in the web page on your community. Rivers, lakes, prairie, the Rockies, and a history that looks like it came out of an old west novel." -Florida
---
"Spent 3 delightful days early this week at our cabin at SBHO. My wife and I got in on cross country skis and had the whole place to ourselves. The new snow on Monday morning had clung to the trees for the first few moring hours which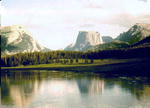 was extremely attractive. Got to see a large (est. ca. 500) flock of Bohemian Waxwings above the Fremont Lake CG. Certainly was good to be back in Pinedale area. Especially appreciated the library allowing us to use their internet connection to vote in the Arizona primary!" - Arizona
---
Sports Afield magazine names Pinedale, Wyoming as one of the 50 Best Outdoor Sports Towns on their Editors' 2nd Annual list of winners across the country. June, 1999

"THERE'S ONE IN every state: A low-key town where genuine outdoorsmen go to immerse themselves in serious sporting pursuits. Where the prices are low, the people are friendly, and the quality of the experience is unmatched."
Town: WYOMING: Pinedale Population: 1330. Location: Western WY. Elevation: 7175 feet. Peak Season: July-September
Lay of the Land: Pinedale is located in ranching country at the foot of Fremont Lake on the western edge of the Wind River Range and the Bridger-Teton National Forest, 70 miles southeast of Jackson Hole.
Attractions: Fishing for rainbows and browns on the Green River. Horseback riding at one of 12 dude ranches and lodges. Snowmobiling and water sports on 12-mile long Fremont Lake.
Gear and Guides: Get geared up at Bridger Wilderness Outfitters (307/367-2268), where you can book a winter survival course for $475 for three days. Bald Mountain Outfitters (307/367-6539) takes groups into the backcountry of the Winds to fish, hunt, horseback ride and ski.
Lodging and Food: Window on the Winds Bed-and-Breakfast (307/367-2600) has country-home accommodations for two for $70, including a full breakfast. McGregor's Pub (307/367-4443) serves Western fare in a rustic atmosphere.
http://www.sportsafield.com/advTvl/town99_index.html
---
"Your web site is one of the most complete sites I have found. This site answered EVERY question I could think of. Some of the information was about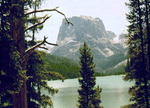 questions I hadn't even dreamed of asking. The photography is stunning. My compliments to the photographer(s). This place is held in very high regard by my wife and me. We used Elkhart as entrance into the wilderness for a 10 day hike three years ago. It was a very enjoyable trip. The best experience was finding three (3) restaurants where we could get excellent Mexican food. Great place. Also good coffee!!" - Utah
---
"I love your town! I hope it changes very little in the future. Had a great breakfast in a quaint restaurant on the northwest end of town... Few towns have the view that you do (Wind River Mts.)..." - Wisconsin
---
"My husband and I spent a week in Pinedale this summer. We loved every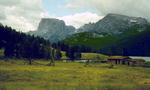 minute of our stay and plan to return soon. The people were wonderful; the surroundings spectacular. McGregor's gets our vote for best place to eat and Chuck Walters was the best fishing guide ever." - M. Z.
---
From The Wyoming Companion Web Site, http://www.wyomingcompanion.com
Award for "The Best Gift Shop in Wyoming"
Moose Creek Trading Company in Pinedale, Wyoming

"We had trouble assigning a category to this wonderful spot. There are many good things to say about The Moose Creek Trading Company. We found it during an emergency stop during a late spring blizzard while passing through Pinedale, Wyoming.
We thought of giving the award to them for "Best Cafe in Wyoming", because of the atmosphere offered by its associated restaurant. We wanted an Egg Sandwich. That item wasn't on the menu, but they made us one anyway It was the LARGEST sandwich we had ever seen and was prepared on the sweetest, most delicious bread we have tasted in our lives. But "Best Egg Sandwich in Wyoming" didn't seem to do justice to this place. We pondered giving an award for "Best Restrooms in Wyoming". They were spotless and complete with furniture that made you want to stay in there for awhile.
We settled on "Best Gift Shop in Wyoming". The Moose Creek Trading Company has the look, smell and feel of a fine antique shop. Prices are reasonable and there are a variety of Wyoming related gifts.
Overall, it has become one of our favorite places and we guarantee we will be stopping again, every time we are in the vicinity of Pinedale.
The Wyoming Companion is proud to award The Moose Creek Trading Company in Pinedale, Wyoming as the "Best Gift Shop in Wyoming" for 1996-1997. "
---
"Our family spent a night at the Best Western Pinedale Inn on our trip home from Yellowstone. We fell in love with Pinedale. Such friendly people and a tidy town. Wrangler Cafe is a great spot., Fife's we have to come back for breakfast. You have good reason to be proud of Pinedale, thank you." - Illinois
---
"I was in Pinedale this summer, had a blast!!!!!!!!!!!!!!!" - Wisconsin
---
More Comments:
January 18, 2005 Article
Green River Lakes photos on this site by Terry & Ron Bunge, used with permission.