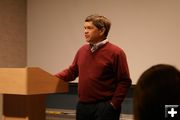 Jeff Fassett

Former Wyoming State Engineer Jeff Fassett is a consultant on Million's project.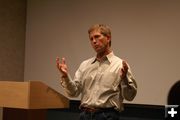 Aaron Million

Colorado businessman Aaron Million explains his water pipeline plan.


Colorado River pipeline planned
by Cat Urbigkit
April 17, 2007

Residents from throughout the Green River Basin converged at Western Wyoming Community College in Rock Springs last week to hear a presentation on the Flaming Gorge/Colorado River pipeline project proposed by Colorado businessman Aaron Million of Fort Collins.

Million termed his proposal a "major water transportation project for the state of Colorado" which could provide needed water for municipalities along the Colorado Front Range, from Fort Collins to Pueblo.

Million grew up involved in the agricultural arena in Green River, Utah, on a cow/calf and sheep outfit. After college, where he pursued natural resource policy, he was involved in the management of large agricultural operations.

Million said that the pipeline project was actually an outgrowth of his graduate studies, combined with the ongoing drought and the political impasse over water development projects. Utah, Wyoming and Colorado have unused Colorado River Compact water that is available for beneficial use, Million noted.

"It's Colorado's entitlement," Million noted. Since he first announced the project last fall, and modeling has been conducted, the size of the project has been reduced. Million said that he is now looking at a minimum 165,000 acre feet, on a staged basis over a 20-30 year period.

The amount of water transported would be from 165,000 to 220,000 acre-feet, Million said, in two 42-inch pipelines. Natural gas powered turbines will provide the energy for moving the water, with five pump stations anticipated.

There is also a major hydropower component of the project, Million said, with big elevation drop near Laramie providing a suitable location.

The pipeline project would travel along an existing federal energy corridor, using existing infrastructure in a cleared right-of-way.

Million told the Roundup that the total project cost is estimated at $2-4 billion, which will be privately financed."It's really just a pipeline project," Million said.

With the point of diversion anticipated on Utah/Wyoming border, Million said it's now looking like the best diversion site is actually located in Utah. He has asked for formal contract for delivery of water from BuRec and filed for a right of way with the Bureau of Land Management. Million said he anticipates a three-year permitting process, adding that actual pipeline construction would take about two years.

"All we're doing, folks, is developing a portion of Colorado's remaining compact allocation," Million said. "We think it's a real good regional project... that will take some pressure off the existing system."

Since the point of diversion will probably be in Utah, that means that the water diversion will occur below that of any Wyoming water users. Although Colorado most certainly has the right to develop its unused compact water, as does Wyoming, those involved in Wyoming water issues note that this project could result in major changes on how water is managed in the basin, since it changes how much water will be in the channel headed downstream from Flaming Gorge. Dan Budd of Big Piney noted that Wyoming's right to develop water during a call on the river must be protected while Colorado uses its right to develop.