Sunday, February 25, 2001 Update - Alpine Ski Tournament

Alpine Ski Invitational Tournament


New on Pinedale Online


Green River Guest Ranch/The Place


Barney Ranch Fly Fishing


Lozier's Box "R" Ranch


Sublette Center


Wood Canyon Retreats


History Ranch


What's New 'On the Ranch'?


Game & Fish Information


LOCAL FOCUS:


More About the Pinedale Roundup


Alpine Ski Tournament Pictures
Alpine Ski Invitational Tournament
The Pinedale High School hosted the Pinedale High School Invitational Alpine Ski Tournament at White Pine Ski area Friday & Saturday, February 23 & 24. Skiiers from schools around Wyoming participated. Scroll down this page for more pictures!
New on Pinedale Online!
Green River Guest Ranch/The Place
During the summer, the Green River Guest Ranch and The Place has log cabin rentals, horseback day riding, extended horseback wilderness pack trips, spot packs, gear drops and fishing & float trips. Located on Hwy 352, they are right on the way to New Fork and Green River Lakes. During the fall, they offer outfitting services and guided hunts. They are located right on the Continental Divide Snowmobile Trail and The Place Restaurant offers full dining services. Please go here for more information.
Barney Ranch Fly Fishing
The Barney Ranch in Big Piney has teamed up with fly fisherman Paul Manzanedo to offer guided fly fishing excursions on the Green River. The Ranch extends for 15 miles along the Green River near Big Piney, Wyoming, and also offers private fishing access North, Middle and South Piney Creeks near where they flow into the Green, as well as 3 large fishing ponds. Lodging in guest cabins on the ranch is included in the price. Please go here for more information.
Lozier's Box "R" Ranch
The Lozier family has been one of Wyoming's finest cattle/horse guest ranches and outfitters for more than 100 years. They offer a variety of 3-7 day horseback vacations as well as Wilderness Adventures in the Wind River Mountains, basing near Willow Lake. The Box "R" Ranch borders the Bridger Wilderness of the Bridger-Teton National Forest, 15 miles due north of Pinedale. Please go here for more information.
Sublette Center
The Sublette Center is a retirement community located in Pinedale. They offer independent living apartments as well as nursing home care services. Home Town Home Health offers 24-hour home health care services. Sublette Center is conveniently located one block from the Senior Citizens Center and local grocery store. They offer independent living, convenience, social activities, and access to medical services in a clean, safe & secure environment. Please go here for more information.
Wood Canyon Retreats
Come to our real-live, working ranch located at the base of the Wyoming Range near Big Piney, Wyoming for fun, outdoor activities to renew your spirit! Hike, run, bike, canoe and more! Please go here for more information.
The History Ranch
If you love history, you'll enjoy a stay at the History Ranch, located near the Wyoming Mountain range in western Wyoming. Four special Old West History Vacation weeks take place in July, coinciding with the Green River Rendezvous. Enjoy activities including shooting a black powder rifle, learning how to set up a tipi, hide tanning, setting a beaver trap, and much more. Horseback riding, visits to historic sites, special day trips, and much more. The 2-story History Ranch lodge looks like an old western hotel. Please go here for more information.
What's New with Wyoming Cowgirl
On the Ranch?
Each week, 'Wyoming Cowgirl' Cris Paravicini writes about her experiences on their ranch on the Green River north of Daniel. Cris has developed a following

of folks who read her accounts regularly each week. If you haven't discovered her site, we invite you to visit her at www.wyomingcowgirl.com for a real treat. Her down-home writing style is unique and refreshing! What's new this week? Cris has pictures of the Daniel Social (which she helped organize) and unveiling of the new Daniel book. Later, they rounded up the cattle from Horse Creek to bring them in for calving season. She comments that they acted very scared of something and kept looking over their shoulders, wild-eyed and more than happy to head home. What do you suppose had them all stirred up?
www.wyomingcowgirl.com
Game & Fish Info
Boaters Encouraged to Register their Boats Now
Both new boat owners and renewals are encouraged to register early and to submit all the required paperwork, says Maggie Barnes, who oversees boat registrations for the Wyoming Game and Fish Department. In Wyoming, all boats equipped with a motor of over five horsepower must be registered. Barnes reminds new boat owners to submit a notarized bill of sale, dealer's invoice and proof of sales tax payment with their registration form. All owners are urged to register early to make sure they are ready to launch when lakes open up. Barnes encourages boaters to take advantage of the 3-year registration. "That way boaters only have to deal with the application every three years and get to save a little money by doing it," she said.
Boat registration is $15 annually or $40 for three years. Forms are available from G&F offices, license agents and on the "fishing page" of the G&F website at gf.state.wy.us.
Check the Results of the Hunting Draw Online
The Wyoming Game & Fish Department is posting the results of the big game hunting license draw on their web site. Hunters should receive their official notification of the draw results in the mail within 15 days of the drawing. Hunters can also call the Game & Fish during regular business hours, to ger the results. This phone call costs $5 per call, and you must be 18 to call. Get the draw results from their web site at: http://gf.state.wy.us/HTML/hunting/licensedraw.htm
LOCAL FOCUS:
Pinedale Roundup Newspaper continued...
The first issue of the new Pinedale Roundup came out last Thursday, February 22nd, under the new staff. The paper sports a new masthead featuring a graphic of local Cowboy Joseph "Tobe" Houston in his western attire from the early 1900s. Houston was a cowboy who spent many years living in the Daniel area. The Pinedale Roundup will be undergoing changes in appearance and content over the next couple of weeks as the new staff settles in and is able to incorporate the new redesigns. Last week they hit the ground running transitioning from the Journal, moving to their new building, and putting the week's paper together on time. We look forward to seeing the new look and coverage as the new staff gets on their feet again gearing up for a larger paper each week. Stories from the Pinedale Roundup will appear on Pinedale Online front page where the Sublette County Journal stories were. The old stories from the Sublette County Journal have been archived and can be found at http://meek.sublette.com/scj
Pictures from the Alpine Ski Tournament at White Pine Ski Area,
February 23 & 24, 2001
Click on thumbnail picture for larger view. Photos by Alan Svalberg
---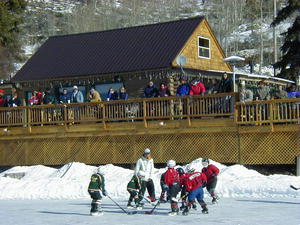 ---
Tuesday, February 13, 2001 Update
Nordic Ski Race at White Pine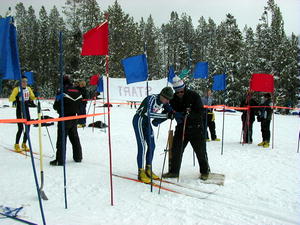 White Pine Ski Area hosted the Pinedale Invitational
Nordic Skiing Skate Race on Friday and Saturday.

Pinedale Invitational Nordic Ski Race


Half Moon Resort Hosts Ice Fishing Derby


Wyoming Game & Fish Taxes


LOCAL FOCUS:


Daniel Social
Pinedale Invitational Nordic Ski Race
Last weekend, Pinedale High School held the Pinedale Invitational Nordic Skiing Race at White Pine Ski area with teams from Wyoming, Idaho, Utah and Montana participating. The competition included J1-10 km, J2-5 km, J3-3 km, J4-2 km and J5-1 km races. Pinedale's Sage Sulenta placed 35th in the J1 10km race, Kristen Boroff placed 13th in the J1F division, and Ben Storud placed 45th in the J2-5 km race. In the J2F-5 km race Pinedale participants included Sara Domek, Tess Schwab, Mae Peterson, Aubree Hafey, Tiffany Andersen, Krystal Winters and Samantha Hopkins, placing 11th, 12th, 26th, 27th, 29th, 35th and 45th respectively. On February 23rd & 24th, the Pinedale Alpine Invitational will be hosted at White Pine Ski area.
Pictures from the Nordic Race
Half Moon Resort to host 1st Annual Ice Fishing Derby and Invitational Hockey Tournament
Half Moon Lake Resort is hosting their 1st Annual Ice Fishing Derby on Half Moon Lake Saturday & Sunday, February 17th & 18th. The 2-day derby will culminate with some lucky fisherman winning the Grand Prize of $500. There will also be day money prizes and money for the 1st fish caught. Refreshments include an outside cookout with hamburgers, hotdogs and chili, as well as the Half Moon restaurant fare. Entry fee is $10 per person or $25 per family. Registration starts any time after 7 am and the derby begins at 8 am each day.
On Saturday, the Pinedale Mite Hockey team, ages 5-8, will host their Regional Invitational Tournament on the ice in front of the Half Moon Lake Resort Lodge. Games start at 9 am and will go until about 3 or 4 pm on Saturday. This is sure to be a lot of fun to watch, and spectators are invited to come on up and view the games from the Half Moon Resort deck.
Half Moon Lake Resort is located 9 miles from Pinedale on Skyline Drive, right on the lake. The road is plowed and sedans should have no problem reaching the resort. Due to limited parking, carpooling is encouraged. Please call 307-367-6373 for more information about the Ice Fishing Derby and Mite Tournament.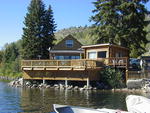 Half Moon Lake Resort
Wyoming Game & Fish Contributes to County Tax Coffers
The Wyoming Game and Fish Department paid over $203,000 of property taxes to counties in 2000, a $2,500 increase from 1999, according to a recent press release from the WG&F Department. The G&F pays property taxes on all real estate, which includes habitat areas, offices, warden stations, fish hatcheries and bird farms. "To some degree there's the misconception that Game and Fish real estate purchases remove land from the tax rolls," said G&F Fiscal Chief Larry Gabriele. "But the Game and Fish, like private businesses and unlike most other government agencies, pays property taxes on all the land and buildings it owns."
All counties received G&F property tax payments. The amounts ranged from $49,888 paid to Fremont County to $289 in Weston County. Other leading county payments were Teton $19,619, Park $17,534, Laramie $17,511, Sheridan $15,989 and Natrona $11,577. Since 1992, the G&F property tax bill has increased $70,000.
In addition to property taxes, the G&F also distributed $21,265 in irrigation fees between Big Horn, Fremont, Goshen, Lincoln, Sublette and Washakie counties. The largest fee, $10,027, was paid to Fremont County. Irrigation fees increased by $36 in 2000. -Wyoming Game & Fish Department
LOCAL FOCUS:
Daniel Social debuts the new Daniel book at the Daniel Schoolhouse
The Daniel Community Center was filled to capacity last Saturday February 10th, during the Daniel Social, which debuted the new Daniel book, "Daniel, Wyoming: The First 100 Years, 1900-2000". The new two-volume book is available at the Daniel Trading Store and Green River Bar in Daniel for $50 per set. Book signings are being arranged in Pinedale and Big Piney. Later, the remaining books will be offered to interested bookstores and other outlets, and the price, no doubt, will increase. If you wish to order a book by mail, make your check payable to the Daniel Community Center in the amount of $50 plus $7 for shipping per set and mail to: Book, Box 102, Daniel, WY 83115-0102.
Pictures from the Daniel Social
---
Friday, February 8, 2001 - Lakeside Lodge proposes expansion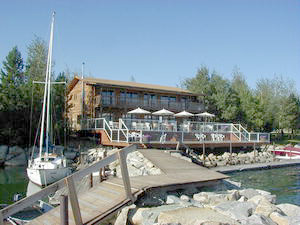 Lakeside Lodge proposes expanding and adding
new facilities to their resort on Fremont Lake.

Lakeside Lodge Proposes Expansion


Continental Divide National Scenic Trail


Game & Fish Urges Safety for Ice Fishing


LOCAL FOCUS:


Daniel Book
The new Daniel book, "Daniel, Wyoming: The First 100 Years 1900-2000", will debut Saturday night, February 10, at the Daniel Social at 6:30 pm at the historic Daniel Schoolhouse. Don't miss it!
Lakeside Lodge Submits Master Development Plan for Proposed Expansion
Lakeside Lodge, located on Fremont Lake northeast of Pinedale, has submitted a proposal to the Pinedale Ranger District to substantially expand their current facilities over the next ten years. Lakeside Lodge operates under a National Forest Special Use Permit from the U.S. Forest Service. Proposed new facilities include 15 small log duplex cabins, four large log duplex family cabins with kitchens, a motel/lodge with 40 total rental rooms, 30 RV sites, 39 slip marina, three small employee cabins, a lakefront recreational area and multi-purpose pavilion, and improved and expanded parking.
Current facilities at the resort include a two-story lodge that was renovated in 1996, four log duplex cabins, a 31-slip marina and refueling dock, 20 RV sites, and boat trailer parking area. Copies of the proposed expansion are available from the Pinedale Ranger District Forest Service office.
An Environmental analysis has been initiated to assess issues and determine possible environmental impacts of the proposed developments and possible alternatives. The Forest Service is soliciting comments regarding concerns, support or opposition to the proposal. Comments should be sent in to the Forest Service by February 28, 2001. Mail to: B-T District Ranger Bob Reese, PO Box 220, Pinedale, WY 82941. For more information, contact Dave Swank at the Pinedale Ranger District at 307-367-4326.
Drawing of Proposed Expansion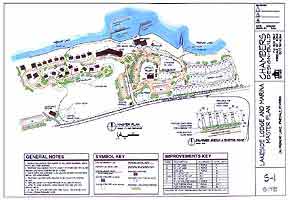 (click for high resolution picture - 114K)
Continental Divide National Scenic Trail
The Continental Divide National Scenic Trail runs for over 3,000 miles from Canada to Mexico. Approximately 200 miles of the Trail is in Wyoming in the Bridger-Teton and Shoshone National Forests, from South Pass to Yellowstone National Park.
The Wyoming section of the trail ranges from around 7,500 to 11,000 feet, traversing the length of the Wind River Range and crossing the west slope of the Absarokas. The trail is usually open from late July through September, depending on the previous winter's snowpack. About 80 miles of this section is above treeline and over half is within designated wilderness, 53 miles in the Teton Wilderness and 70 miles in the Bridger Wilderness. Black bears range throughout the mountains in northwest Wyoming, and most of the area between the northern Wind River Range and Yellowstone Park is grizzly bear country.
Full-service communities close to this section of trail include Pinedale, Jackson, Lander and Dubois. Potential re-supply points are at South Pass, Big Sandy, Green River Lakes and Togwotee Pass. Visitors are strongly encouraged to check with local Forest Service offices for current conditions along the trail for the dates they wish to hike. Topographic maps, camping equipment, food and stove fuel can be found at the towns close to the trail.
A booklet describing the Wyoming section of the Trail, "Continental Divide National Scenic Trail, A Visitor's Guide for the Wyoming Section between South Pass and Yellowstone Park", is available from the Bridger-Teton National Forest. More information is available from the Pinedale Ranger District, PO Box 220, Pinedale, WY 82941, 307-367-4326.
Game & Fish Urges Caution for Ice Fishing
Ice fishing is a wonderful activity for the avid outdoors person, but the Game and Fish Department recommends anglers use extreme caution anytime they venture out on the ice. "Ice conditions on Wyoming's lakes can change rapidly," said Mike Snigg, Laramie Region fisheries biologist. "Sometimes warm days, which deteriorate ice conditions, are followed by bitterly cold days that give the illusion that the ice is safe." It is important to know, not only what current conditions are, but also what recent weather conditions have been before heading out, he said.
Ice thickness on lakes is far from uniform and can change quickly. Springs or seeps, wind and changing water levels often create unsafe spots.
The G&F suggests the following precautions to reduce the chance of an accident:
Keep in mind that clear blue ice is stronger than cloudy ice.
Never drive vehicles, ATV's or snow machines onto the ice.
Carry a length of rope and wear a personal flotation device.
Shuffle or slide your feet, never run.
Long nails or spikes tied to a cord and carried around your neck will help you climb out if you do break through the ice.
Avoid places near open water or running streams.
Anglers are advised to fish with a friend and to pack an extension ladder in case of an accident. If someone falls through the ice, extend the ladder and push it toward the victim, as you crawl, disperse your weight on the ice. When the victim grasps the ladder rung, slowly start backing up and pull them out of the hole. Once back on the ice, have the victim stay prone, until he or she is safely pulled away from the area. Then immediately get the victim into a warm environment and dry clothes. "Some anglers complain about bulky life preservers," Snigg said. "There are many new types of life jackets and float coats, which are unobtrusive and comfortable. Wearing one may save your life if you break through the ice." -Wyoming Game & Fish Department

LOCAL FOCUS:
Daniel Social debuts the new Daniel book - Sat, Feb 10, 6:30 pm, Daniel Schoolhouse
The book committee is proud to announce that 780 pages, 811 photos, 30 maps, and 250 livestock brands have come together in the long awaited two-volume book, DANIEL, WYOMING-THE FIRST HUNDRED YEARS, 1900-2000. This epic, numbered, first-edition publication-sure to become a collector's item-will be debuting at the Daniel Social on Saturday, February 10, at 6:30 pm, for $50 per book set.
Final book production figures are as follows: Total publication cost, including shipping to Daniel, is $47,959.50. To-date contributions total $35,175.00, leaving an under-balance of $12,784.50. The remaining deficit recently had to be borrowed to allow the release of the books from the publisher, Agreka Books. When the loan is repaid, the balance from the book sales will be given to the Daniel Community Center building fund. Over 300 of the 1,000 books have already been reserved with the remaining volumes expected to disappear like hotcakes before an August haycrew.
After the Daniel Social, the books will be available at the Daniel Trading Store and the Green River Bar in Daniel for $50 per set. Book signings are being arranged in Pinedale and Big Piney. At a later date, the remaining books will be offered to interested bookstores and other outlets. The price at that time will no doubt increase, so please plan to buy your books early.
If you wish to order a book set by mail, make your check payable to the Daniel Community Center in the amount of $50 plus $7 shipping fees per set. Mail to: Book, Box 102, Daniel, WY 83115-0102.
The book committee says that the book is truly remarkable and wishes to thank the incredibly long list of contributors, who have donated in ways beyond measure towards the realization of this masterpiece.
Please plan to attend the BIG Daniel Social where, in addition to celebrating the birthday of both the new book and the town of Daniel, more country fun than you can imagine will happen under one little schoolhouse roof. Together with the high school rodeo club, we'll feed you, laugh with you, dance with you, sing to you, ring bells for you, thank you, and especially, make you feel right at home.
And don't forget the dessert auction that same night! Both ladies and gents from near and far will be baking their favorite sweets, all of which will hit the auction block and be offered for sale to the highest bidder. Best of all, the baker goes with the dessert! So, don't miss Bob Beard's luscious Chocolate Cream Pie and Ben Pearson's old-fashioned Scratch Cake. Or, maybe you'll take a fancy to Sonny Alexander's mom-from-Maryland's renowned Carrot Cake, or Mike Vargo's special, after-work Chocolate Pound Cake, or Rudy Paravicini's deluxe Frosted Cherry Pie. And, if you're lucky, you might roll away with one of Dudley Key's famous pies or Russell Nelson's surprise cobblers. We're told that there might even be a Blackberry Cheesecake and Caramel Sticky Buns, and maybe, a German Chocolate Cake. But the real question is...Will Stu McKinley make a pie, will Jim Kiever fry donuts, and will Stan Zierlein bake a batch of FFA Chocolate Chip cookies? Can't say for sure, but, the real icing on the cake is this: The historic Daniel schoolhouse now has indoor bathrooms for your comfort's sake! So, come on out to our town and share in the fun! (more about the book)

---
Friday, February 2, 2001 Update - Daniel Book Debuts
Misty Pinedale Morning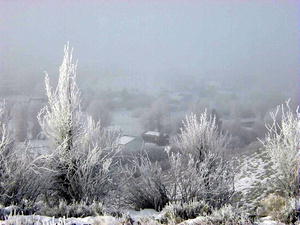 A blanket of fog covered Pinedale Monday morning leaving
a heavy coat of frost on all the trees.

Daniel Book Debuts


Pinedale Airport Plans for Future Expansion


Update on Wild Horse Deaths


LOCAL FOCUS:


Knotty Pine Plaza Gets Facelift


IPSSSDR Continues


IPSSSDR Photo Gallery
Daniel Book Debuts
The Daniel Community Center will debut their long-awaited 2-volume book, "Daniel, Wyoming: The first Hundred Years, 1900-2000" Saturday, February 20 at the Daniel Social at 6:30 pm at the historic Daniel Schoolhouse. The event, co-sponsored by the Pinedale High School Rodeo Club, will be a celebration of Daniel's 100th birthday and a "Fun"draiser for the High School Rodeo Club. There will be a new schoolhouse bell ceremony with birthday cake & home-made ice cream, a dessert auction, and live & silent auction, dance contest, raffle items and door prizes. The book is a 2-volume history of the town of Daniel, Wyoming, along with the surrounding ranching community-how the town got started and how it developed over one hundred years. It contains original material and photos from private collections never before seen by the public with an expanded cemetery section & new section on Daniel area brands. Proceeds from book sales will go towards improvements at the 1920 Daniel Schoolhouse. (more about the book)
Pinedale Airport Plans for Expansion
The Pinedale Airport Board held a public meeting Wednesday, January 31 at the Pinedale library on the Airport Layout Plan Update and topics concerning planned potential runway expansion. The Airport Layout Plan Update for Pinedale's General Aviation Airport, Ralph Wenz Field, was presented by JPS Aero Consultants Inc, Aviation Planners from Colorado. It reflects possible future runway expansion, hangar development, and other light industrial development when and if needed in the next 20 years.
The airport completed a construction project last summer that involved resurfacing of the runway, relocating some of the cross taxiways, upgrading the lighting system, and installing a wildlife fence. Currently the airport is classified as a CII airport and meets all FAA design standards for that classification. The concern for the future is that the existing 7,100 foot runway length does not meet the design recommendations for that rating, and it is proposed to add 1,800 feet to the existing runway, extending it to 8,900 feet, to meet safety concerns. This expansion would put the end of the runway in the middle of the current Airport Subdivision. Adjacent landowners, and those living in the path of the runway expansion, expressed surprise and concern about the possibility of land acquisitions projected for property located within 2 or 3 miles of the existing or expanded runway, noise concerns, and air traffic increases.
According to the latest analysis, the Pinedale airport presently gets 8,600 aircraft "operations" per year, with a landing or a takeoff considered to each be a separate operation. By the year 2005 that number is expected to be 9,173, and by the year 2020 it is projected to be 11,135 operations. Of the current traffic, 92% is local or itinerate use. No air carrier or commuter traffic was recorded. Air Taxi traffic was 600 operations in the year 2000, and military traffic operations was 20 and not expected to increase.
This meeting was the only public meeting scheduled on this matter. A preliminary Airport Layout Plan, and all the maps, are available for review at the Pinedale Town Hall, 210 W Pine Street. A set of the Plan maps has been left at Office Outlet in Pinedale for the public to copy. For more details about the Plan, please contact Rick Patton, Aviation Planner for JPS AeroConsultants, Inc at 719-429-0675 or by e-mail at rpatton@ris.net Comments about the proposed plan are being solicited from the public and can be sent to the Pinedale Town Hall at PO Box 709, Pinedale, Wyoming 82941, 307-367-4135, e-mail: top@wyoming.com. Public comments will be included in any future Environmental Impact Statements for the airport expansion and should be sent into the Town before their March Town meeting.
Airport Layout Plan by JPS (95K) high res (294K)
Airport Property Map by JPS (86K) high res (181K)
More information about the Pinedale Airport
Update on Wild Horse Killings
Bureau of Land Management law enforcement officers and special agents from several states are continuing to investigate the shooting deaths last month of 37 wild horses in southwest Wyoming. The horses were found in the Rock Springs and Rawlins area. The BLM has conducted overflights of the areas and report that no additional dead horses have been discovered. Law enforcement staff is working long hours to patrol areas and to investigate all leads, but so far no new information has been released regarding possible persons involved in the shootings. The reward for the arrest and conviction of the person or persons responsible for the wild horse deaths is $30,000. Anyone with information about the shootings is urged to call the BLM law enforcement officer in either Rock Springs (307/352-0214) or Rawlins (307/328-4211). Wyoming BLM web site
LOCAL FOCUS: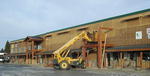 Knotty Pine Plaza gets a Facelift
The Knotty Pine Plaza, now renamed to the Summit Building, is getting a facelift. The hub-bub of activity around Pinedale's only "mall" these past several weeks involves cosmetic and some structural improvements to create a new appearance for the exterior of the building. The new owners, Summit Investments,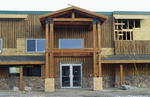 have a two-phase plan to upgrade the building. Phase I, going on now, is to work on the exterior with repairs to the roof, replacing windows, add entrance ways, and even up the exterior roof line. This phase should be completed within the next month or so, weather permitting. Phase II involves interior improvements. Pinedale Properties Realtor and Summit Building Property Manager, Cyd Goodrich, said that retail and office space are still available for rent in the building. Depending on size and location, rentals are from $200-$600 per month. Anyone interested in renting space in the new Summit Building can contact Cyd at Pinedale Properties in Pinedale, or call 307-367-6683 or e-mail: pinedaleproperties@wyoming.com
IPSSSDR Continues...
On Monday, January 29th, the International Pedigree Stage Stop Sled Dog Race (IPSSSDR) arrived in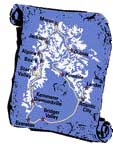 Sublette County for the Pinedale Stage Stop of the annual race. Pinedale hosted the IPSSSDR for 3 days, Monday - Wednesday with the racers finally leaving Wednesday morning for Blucher Creek and Lander. The race started in Jackson on January 27th and will end in Jackson on February 7th, with 12 stage stops during the course of the race. Each day, teams race between 30 to 80 miles of the course with the best accumulated times determining the overall winner. In overall standings, 42 year old Hans Gatt of British Columbia maintained the lead. The musher wearing the Leader's yellow racing bib is the musher who has accumulated the fastest times at each state. The stage stop format is dog-friendly, allowing mushers and dogs to rest overnight, and providing stage stop communities opportunities to show off their towns hosting festivals, banquets and carnivals surrounding the race. Stage stops are Jackson, Moran, Dubois, Pinedale, Atlantic City, Lander, Bridger Valley, Evanston, Kemmerer/Diamondville, Star Valley, Box Y and Alpine. For more information about the race, see the IPSSSDR page. Daily Race Results: www.wyomingstagestop.org Daily Event Webcast: www.mypetstop.com
2001 Pinedale Stage Stop IPSSSDR Photo Gallery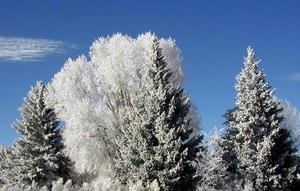 Frosty trees in Pinedale earlier this week