---
News Release
Sublette County Sheriff's Office - 3:00 pm, May 28, 2001
Shortly after 7:00 p.m. May 27, 2001, Sheriff's officers, Pinedale Ambulance, Wyoming Game and Fish, Tip-Top Search and Rescue and Forest Service responded to Little Half Moon Lake, 10 miles east of Pinedale, Wyoming. A report of a capsized boat and 3 people in the water was the initial call.
A Game and Fish boat arrived shortly before 7:30 p.m. and rescued Terry Pollard age 52 and his wife Barbra Pollard age 50, both of Pinedale. The third person on the capsized boat was 46 year old Charles Tim Baxley of Pinedale. Baxley had departed the capsized boat and was unable to swim to shore. He was found approximately 1 hour later in the vicinity of the capsized boat in about 12 feet of water and about 60 yards from shore.
Tip Top Dive Team Member Scott Mackey dived into the water and retrieved Baxley. He was transported to Pinedale Clinic where he was pronounced dead later in the evening. Initially the cause of death is assumed to be drowning. It is unknown at this time whether an autopsy will be performed or not.
At the writing of this press release, the investigation into the cause of the boat capsizing is under investigation and more information will be released about that when it is available.
Baxley and the Pollards were camping in the Little Half Moon Lake area with friends and relatives when the tragedy occured.
Authority
Hank Ruland
Sublette County Sheriff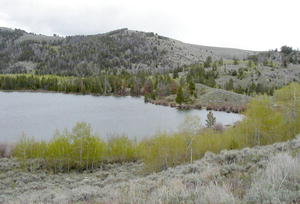 Little Half Moon Lake