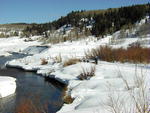 The course was run both days, with the lowest combined time for both days determining the winner. The course run time was approximately 30 minutes. Winner June Davies of Victor, Idaho, finished the race with an overall 2-day time total of 0:53:29. Pinedale's Barrie Raper came in 6th, with a total time of 0:57:15

This year, CenturyTel sponsored the race bibs and local rancher's brands were used instead of numbers. Using brands reflected the local heritage of the community and was a unique way to show pride in the community. Ranchers who agreed to allowing their brands to be used in the race also donated money to a cash purse. The race had a $40 entry fee, with $5 going towards the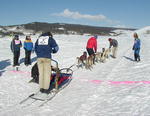 grooming of Wyoming trails.
The Green River Rondy was founded and organized by Kathy MacKay of Daniel, Wyoming.
For more information about the race, please visit:
http://www.coffey.com/~draper/rondyentry2001.html